"Deandra Grant Law fights hard for their clients and is always willing to go above and beyond. They are the best firm for DWI cases in DFW and beyond. Definitely hire them to represent you in any pending cases."
- P. Williams

"Deandra Grant made a tough situation so much better. She listened to my concerns and helped me so much with my case. I would recommend her to anyone needing legal services."
- M. Haley

"Deandra Grant Law handled my case with diligence and professionalism. Deandra Grant's reputation is stellar and now I know why. She has a team of individuals who provide quality service."
- N. Coulter
A Fighting Team On Your Side
Since 1994 when our doors opened, Deandra Grant Law has helped thousands of clients get their DWI charges reduced or dismissed. We're ready to fight on your behalf.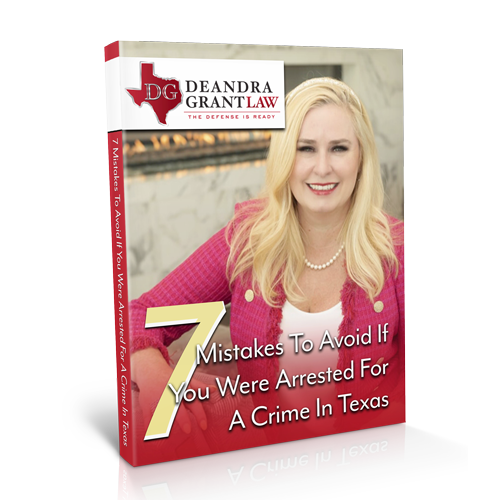 Download Our Free Texas Criminal Guide
Learn what you should and shouldn't be doing to help your criminal defense case.
Purchasing or Receiving Stolen Property Defense Lawyers in Texas
If you have been charged with purchasing or receiving stolen property, it is in your best interests to retain the services of a trusted legal representative as soon as possible. You could be facing jail time, fines, probation, and restitution if convicted. You will also have a black mark on your criminal record that is a form of theft making future prospects difficult in terms of employment, housing, and other life opportunities.
At Deandra Grant Law, our Texas stolen property defense lawyer has decades of criminal defense work to offer, including an outstanding track record as a trial lawyer. This has led to awards such as an AV Preeminent® Rating from Martindale-Hubbell®, being listed on Super Lawyers®, and receiving a 10.0 Superb Avvo Rating.
Texas Laws Regarding Purchasing Or Receiving Stolen Property
Under Texas law, theft means taking someone else's property without their permission with the intent to deprive them of it. However, you can be charged with another form of theft under the Texas Penal Code Section 31.02 if you purchase or receive stolen property. Many scenarios involve this type of offense, including those pertaining to pawn shop owners as well as consumers.
It is not a necessary element of this theft crime for you to have positively known that the property was stolen. The prosecution only needs to show that you should have known that it was stolen based on the circumstances. For instance, if you purchased an item from someone on the street or in the back of a van for a price much lower than market value, it can be considered that you should have known the item was stolen.
This offense is punished according to the value of the property that was stolen. Depending on the value, it can be charged as a Class C misdemeanor carrying a fine only of up to $500 all the way up to a first-degree felony punishable by 5 up to 99 years in prison and/or a fine of up to $10,000.
Related Blogs
White-collar crimes, such as fraud, embezzlement, and insider trading, are non-violent offenses typically committed by [...]
Client Reviews

"Deandra Grant Law handled my case with diligence and professionalism. Deandra Grant's reputation is stellar and now I know why. She has a team of individuals who provide quality service."
N. Coulter