"Deandra Grant Law fights hard for their clients and is always willing to go above and beyond. They are the best firm for DWI cases in DFW and beyond. Definitely hire them to represent you in any pending cases."
- P. Williams

"Deandra Grant made a tough situation so much better. She listened to my concerns and helped me so much with my case. I would recommend her to anyone needing legal services."
- M. Haley

"Deandra Grant Law handled my case with diligence and professionalism. Deandra Grant's reputation is stellar and now I know why. She has a team of individuals who provide quality service."
- N. Coulter
A Fighting Team On Your Side
Since 1994 when our doors opened, Deandra Grant Law has helped thousands of clients get their DWI charges reduced or dismissed. We're ready to fight on your behalf.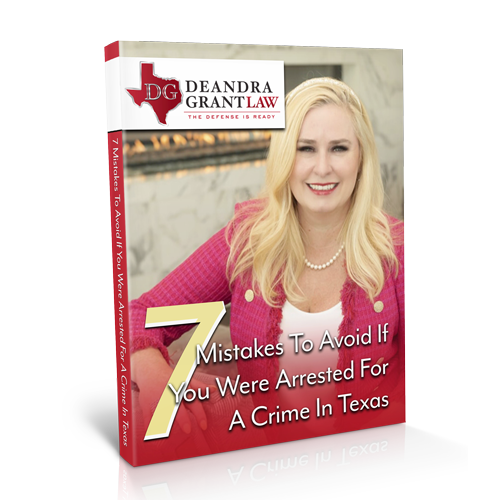 Download Our Free Texas Criminal Guide
Learn what you should and shouldn't be doing to help your criminal defense case.
Texas Stalking Defense Lawyers
All domestic violence crimes constitute serious criminal charges which can lead to an array of penalties that can affect your future. A thorough and aggressive legal defense is needed in any case where you have been accused of stalking as a domestic violence offense. Deandra Grant Law is a criminal defense firm serving Texas that you can trust to provide such a thorough defense. Lead attorney, Deandra Grant, has earned many recognitions and distinctions for her outstanding legal service in the field of criminal defense, from being selected for inclusion in the Super Lawyers®list of 2011 and 2012 to a Top 100 Trial Lawyer by the National Trial Lawyers Association. That is the level of representation you can count on when your future and freedom are at stake.
Stalking Under Texas Law
The Texas Penal Code Section 42.072 defines stalking. You will be charged with stalking if you engage in a course of knowing conduct on more than one occasion that is directed against the same person. This conduct is defined as following the person in a manner that is perceived to be threatening to the alleged victim such as with threat of bodily injury to the victim, threat of bodily injury to the victim's family or household members, or threat of damage to the victim's property. Such threatening behavior must be seen as behavior which would create fear in a reasonable person. Stalking can also include threats made through the mail or by phone. The threats may also be made against the victim by a person who is acting for the stalker.
A first offense of stalking is charged as third-degree felony. In second or subsequent convictions, it is charged as a second degree felony. Third-degree felonies carry penalties of 2 to 10 years in prison and a fine of up to $10,000. Second degree felonies carry penalties of 2 to 20 years in prison and a fine of up to $10,000. Victims of stalking in a domestic violence situation may seek a protective court order, which will prohibit the alleged offender against any form of contact.
Dedicated Legal Help from Experienced Attorneys
Fighting your stalking charge with an effective legal defense is imperative if you wish to obtain the best possible case result. That can be done with the help of our accomplished attorney and legal team. Contact us to find out where you stand, what to expect, and what can be done to achieve an optimum outcome today.
Related Blogs
The Miranda rights, a fundamental component of the American criminal justice system, play a crucial [...]
Client Reviews

"Deandra Grant Law handled my case with diligence and professionalism. Deandra Grant's reputation is stellar and now I know why. She has a team of individuals who provide quality service."
N. Coulter