"Deandra Grant Law fights hard for their clients and is always willing to go above and beyond. They are the best firm for DWI cases in DFW and beyond. Definitely hire them to represent you in any pending cases."
- P. Williams

"Deandra Grant made a tough situation so much better. She listened to my concerns and helped me so much with my case. I would recommend her to anyone needing legal services."
- M. Haley

"Deandra Grant Law handled my case with diligence and professionalism. Deandra Grant's reputation is stellar and now I know why. She has a team of individuals who provide quality service."
- N. Coulter
A Fighting Team On Your Side
Since 1994 when our doors opened, Deandra Grant Law has helped thousands of clients get their DWI charges reduced or dismissed. We're ready to fight on your behalf.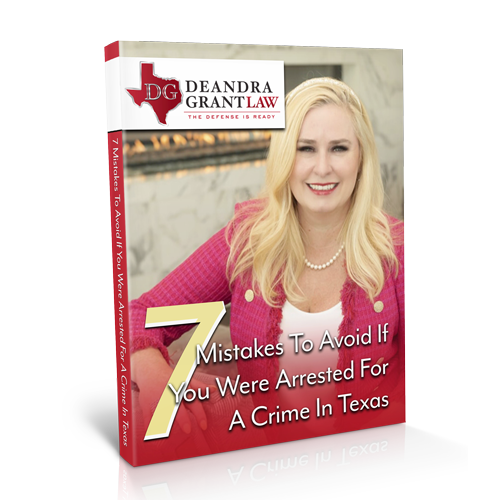 Download Our Free Texas Criminal Guide
Learn what you should and shouldn't be doing to help your criminal defense case.
Texas Domestic Battery Defense Lawyers
Domestic violence offenses are aggressively prosecuted in Texas in an effort to protect victims and their children from harm. In order for a violent act to be viewed as domestic violence, it must involve spouses, ex-spouses, those related by blood, those who have a child in common, household members, or dating partners. If charged with a domestic violence crime, you face the possibility of serious penalties. Even a first offense will often result in jail time and other court-ordered actions which can adversely impact your life. In such a situation, you need a proven trial lawyer in your local area who has the requisite experience and skills to fully defend you.
Why clients choose Attorney Deandra M. Grant:
Proven track record of success

Award-winning representation

10.0 Superb rating on Avvo

Nationally recognized legal counsel
If you're facing a domestic battery charge, Deandra Grant Law provides outstanding legal representation. Attorney Grant is a Texas Super Lawyer with nearly 30 years of criminal defense practice. Her proven legal ability has resulted in the highest rating from Martindale-Hubbell® , the national lawyers' peer review organization as well as a rating of 10 Superb by Avvo. She and her committed legal team know how to build effective and compelling legal defenses that can make a difference in the outcome of your case.
Related Blogs
The Miranda rights, a fundamental component of the American criminal justice system, play a crucial [...]
Penalties for Domestic Battery
Under Texas law, domestic battery consists of an assault which intentionally, knowingly, or recklessly causes bodily harm to the victim. Aggravated assault occurs when serious bodily harm is caused intentionally, knowingly, or recklessly or when the alleged offender uses or threatens to use a deadly weapon while in commission of the crime. In the case of simple domestic assault, it is charged as a Class A misdemeanor on a first offense. Second and subsequent offenses are charged as third-degree felonies, while aggravated domestic assault is charged as a second-degree felony or first degree felony, if a deadly weapon is used and serious bodily injury is caused to the victim.
Domestic battery penalties include:
If charged as a misdemeanor: Up to 1 year in jail and fines up to $4,000

If charged as a third-degree felony: Up to 10 years in prison and fines of up to $10,000
Aggravated domestic assault penalties can include:
If charged as a second-degree felony: Up to 20 years in prison and fines up to $10,000

If charged as a first-degree felony: Up to 99 years in prison and fines up to $10,000
Obtain Skilled Legal Representation
Any domestic violence accusation demands an aggressive and thorough legal response. Our firm has over 25 years of proven results in defending these types of cases. There are very few things more frightening than being arrested for a crime, and we understand how isolating the criminal justice system can be – should you choose to hire our legal services, you can trust that you won't go through the process alone.
Client Reviews

"Deandra Grant Law handled my case with diligence and professionalism. Deandra Grant's reputation is stellar and now I know why. She has a team of individuals who provide quality service."
N. Coulter