"Deandra Grant Law fights hard for their clients and is always willing to go above and beyond. They are the best firm for DWI cases in DFW and beyond. Definitely hire them to represent you in any pending cases."
- P. Williams

"Deandra Grant made a tough situation so much better. She listened to my concerns and helped me so much with my case. I would recommend her to anyone needing legal services."
- M. Haley

"Deandra Grant Law handled my case with diligence and professionalism. Deandra Grant's reputation is stellar and now I know why. She has a team of individuals who provide quality service."
- N. Coulter
A Fighting Team On Your Side
Since 1994 when our doors opened, Deandra Grant Law has helped thousands of clients get their DWI charges reduced or dismissed. We're ready to fight on your behalf.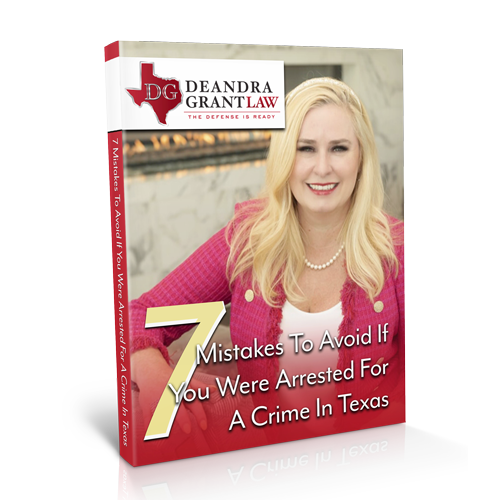 Download Our Free Texas Criminal Guide
Learn what you should and shouldn't be doing to help your criminal defense case.
Texas Xanax Possession Lawyers
Xanax is a prescription drug that is often used illegally. Texas law lists Xanax as a Penalty Group 3 drug, meaning any possession of it outside of a prescription can be tried as a criminal offense. If you have been charged with possession of Xanax, do not hesitate to seek a qualified drug attorney to provide the defense you need.
Our Texas Xanax crime lawyers at Deandra Grant Law are known for providing aggressive and zealous defense. They have fought and defeated difficult criminal charges and can handle your case. Attorney Grant is known for two decades of professionalism, with accolades including the highest possible rating from Martindale-Hubbell®, AV Preeminent®. She and the rest of our legal team are more than qualified to take on your case.
Consequences Of Possessing Xanax
While the penalties for possession of Xanax are harsh, there are even steeper consequences for trafficking. This is because drug trafficking (distributing, selling, etc.) is always considered a felony. Contact a lawyer from our firm today for legal assistance fighting your criminal drug charges.
Possession Of Xanax Charge
If you are found to have Xanax in your possession without a legal prescription, you will face charges. The nature and consequences of your charges depend on the amount of the drug you are charged for: anything less than 28 grams is a misdemeanor and anything more is a felony.
If convicted, you could face the following punishments:
Suspension of your driver's license

Fines of up to $10,000

Jail time of up to one year

Prison time up to a life sentence

Loss of property

Other penalties
Fight Your Charges Today
Whether you have been arrested for illegal possession or for distribution of Xanax, you cannot afford to delay in securing a defense. Your freedom and future are at stake, and cannot be preserved unless you get your charges reduced or dismissed. The Texas Xanax Possession Lawyers at Deandra Grant Law have helped clients win the toughest cases. We can provide the legal representation you need to clear your drug charges.
Related Blogs
The Miranda rights, a fundamental component of the American criminal justice system, play a crucial [...]
Client Reviews

"Deandra Grant Law handled my case with diligence and professionalism. Deandra Grant's reputation is stellar and now I know why. She has a team of individuals who provide quality service."
N. Coulter