"Deandra Grant Law fights hard for their clients and is always willing to go above and beyond. They are the best firm for DWI cases in DFW and beyond. Definitely hire them to represent you in any pending cases."
- P. Williams

"Deandra Grant made a tough situation so much better. She listened to my concerns and helped me so much with my case. I would recommend her to anyone needing legal services."
- M. Haley

"Deandra Grant Law handled my case with diligence and professionalism. Deandra Grant's reputation is stellar and now I know why. She has a team of individuals who provide quality service."
- N. Coulter
A Fighting Team On Your Side
Since 1994 when our doors opened, Deandra Grant Law has helped thousands of clients get their DWI charges reduced or dismissed. We're ready to fight on your behalf.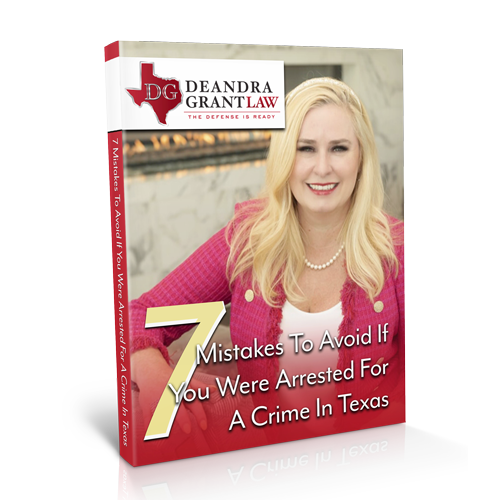 Download Our Free Texas Criminal Guide
Learn what you should and shouldn't be doing to help your criminal defense case.
Texas Drug Importation Defense Attorneys
The importation of controlled substances into Texas is a serious accusation which calls for the services of a competent and dedicated defense attorney. Controlled substances include such drugs and narcotics as cocaine, heroin, marijuana, methamphetamine, and other street drugs as well as prescription medicines like oxycodone, hydrocodone, and more. These substances are placed in categories under the Texas Controlled Substances Act based on how addictive and dangerous they are. Importing these substances into Texas is generally charged as a felony for which you could face jail or prison time.
Because Texas is a border state, illegal drug importation is aggressively prosecuted so as to deter and limit drug trafficking into the state. You may be facing serious consequences without the help of a criminal defense attorney who knows how to fight back effectively. Deandra Grant Law offers nationally-recognized and highly-rated legal service in criminal defense. Founding attorney, Deandra Grant, has been selected to Super Lawyers® lists, has earned the highest possible peer-reviewed rating by Martindale-Hubbell®, and is a Top 100 Trial Lawyer as named by the National Trial Lawyers Association. That is the level of legal ability you want on your side when facing serious felony charges.
Drug Importation Charges In Texas
Drug importation is associated with drug trafficking because importation into Texas generally means large quantities of drugs meant for sale or distribution. Importation with the intent to deliver to others violates Section 481.101 of the Texas Health and Safety Code which categorizes controlled substances into four different penalty groups for the purposes of punishment. Penalty Group 1 includes heroin, cocaine, methamphetamine, and opiates while Penalty Group 1A includes LSD. These are considered the most dangerous and, therefore, most heavily punished substances. Penalty Group 2 includes hallucinogens and depressants while Penalty Group 3 includes stimulants. Penalty Group 4 contains narcotics mixed with nonnarcotic medical substances.
Penalties range from state jail terms and fines of up to $100,000 to life terms in a Texas prison with fines of up to $250,000. When facing an illegal drug importation charge, your freedom may be at stake while your future may become limited due to a permanent criminal record as a drug felon.
Bring Your Case To A Capable Firm
When accused of drug importation, your case needs to be thoroughly examined and investigated for all possible evidence that will work in your defense. That is what you can expect to have happen when you retain the services of our Texas drug importation lawyers at our firm. We have built a reputation for excellence. Let us use our considerable talent, ability, and commitment to defend you.
Related Blogs
White-collar crimes, such as fraud, embezzlement, and insider trading, are non-violent offenses typically committed by [...]
Client Reviews

"Deandra Grant Law handled my case with diligence and professionalism. Deandra Grant's reputation is stellar and now I know why. She has a team of individuals who provide quality service."
N. Coulter