"Deandra Grant Law fights hard for their clients and is always willing to go above and beyond. They are the best firm for DWI cases in DFW and beyond. Definitely hire them to represent you in any pending cases."
- P. Williams

"Deandra Grant made a tough situation so much better. She listened to my concerns and helped me so much with my case. I would recommend her to anyone needing legal services."
- M. Haley

"Deandra Grant Law handled my case with diligence and professionalism. Deandra Grant's reputation is stellar and now I know why. She has a team of individuals who provide quality service."
- N. Coulter
A Fighting Team On Your Side
Since 1994 when our doors opened, Deandra Grant Law has helped thousands of clients get their DWI charges reduced or dismissed. We're ready to fight on your behalf.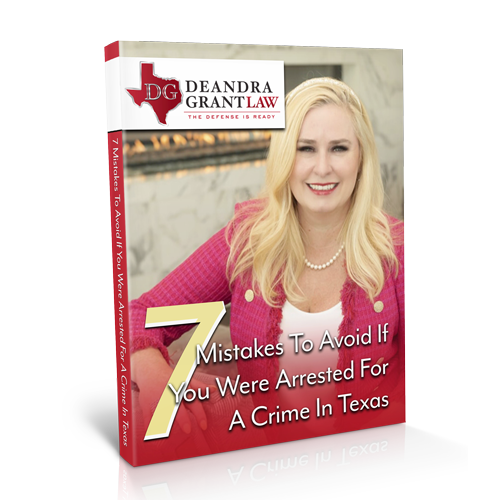 Download Our Free Texas Criminal Guide
Learn what you should and shouldn't be doing to help your criminal defense case.
Possession With Intent to Distribute Charges in Texas
At Deandra Grant Law, we always focus on the needs of our clients, and vigilantly protecting their legal rights when charged with any crime in Collin County. If you have been charged with possession with the intent to distribute any illegal or prescription drug, you may be facing extremely tough penalties, depending upon the amount and type of drugs it is alleged that you possessed.
Protecting The Rights Of Defendants Facing Drug Charges
If you are believed to be a drug seller, you are viewed as the most important target for law enforcement officials in the war on drugs. Choose an attorney who is skilled and experienced in the defense of drug crimes and is as dedicated or more than the state in ensuring justice and the protection of your legal rights.
Our attorneys are passionate when it comes to protecting the liberties and constitutional rights of our clients, and many times, the state will overstep their boundaries in their zealous pursuit of those who sell drugs in the state of Texas.
Experienced Texas Drug Crimes Attorneys
Contact our offices today and arrange a convenient, confidential appointment for an initial consultation with one of our highly competent criminal defense attorneys. One of our attorneys will personally meet with you and review the facts of your case, hear your side of the story without sitting in judgment, and advise you of your options and the likely outcome of each possible course of action.
We are always available to take your call to schedule an evaluation or take your message, day or night. See why we are highly rated by our peers and the community of clients we have represented and jurists in front of which we have argued. Always choose your lawyer with careful consideration. See why she has been rated as AV® Preeminent ®, the highest rating, by Martindale-Hubbell®.
Related Blogs
The Miranda rights, a fundamental component of the American criminal justice system, play a crucial [...]
Client Reviews

"Deandra Grant Law handled my case with diligence and professionalism. Deandra Grant's reputation is stellar and now I know why. She has a team of individuals who provide quality service."
N. Coulter