"Deandra Grant Law fights hard for their clients and is always willing to go above and beyond. They are the best firm for DWI cases in DFW and beyond. Definitely hire them to represent you in any pending cases."
- P. Williams

"Deandra Grant made a tough situation so much better. She listened to my concerns and helped me so much with my case. I would recommend her to anyone needing legal services."
- M. Haley

"Deandra Grant Law handled my case with diligence and professionalism. Deandra Grant's reputation is stellar and now I know why. She has a team of individuals who provide quality service."
- N. Coulter
A Fighting Team On Your Side
Since 1994 when our doors opened, Deandra Grant Law has helped thousands of clients get their DWI charges reduced or dismissed. We're ready to fight on your behalf.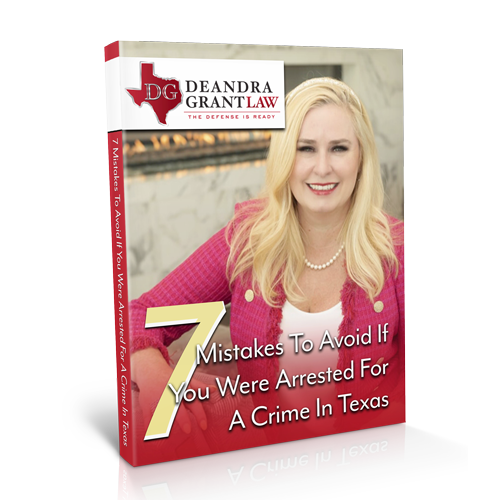 Download Our Free Texas Criminal Guide
Learn what you should and shouldn't be doing to help your criminal defense case.
Texas Restraining Order Attorneys
Situations involving allegations of domestic violence can be incredibly stressful for all involved. Entire families are often divided and emotions understandably run high. Unfortunately, these situations also lend themselves to a variety of false and wrongful accusations. Perhaps an angry spouse or significant other has decided they no longer want to punish the other individual involved. He or she can simply file a restraining order against that person. If these are the circumstances you have found yourself in, with a restraining order filed against you, a skilled Texas restraining order lawyer at Deandra Grant Law can help. Our firm's leading attorney has nearly 30 years of experience and understands how to navigate complex legal situations. Our firm is dedicated to providing the criminal defense representation you need. Let us protect your rights by fighting on your behalf.
How Restraining Orders Work
If a spouse or cohabitant has suffered bodily harm or the imminent threat of such harm, he or she can file a temporary restraining order against the other individual involved. The alleged aggressor must vacate the premises immediately. Restraining orders can prevent the accused abuser from calling or otherwise contacting the victim, from buying a gun, from living in the same home as the victim, and from coming within 100 yards of the victim, the victim's home, or the victim's place of work. Individuals who violate a restraining order can be automatically arrested and face fines and jail time as a result of a misdemeanor or felony charge.
Experienced Lawyers Serving Collin County and All of Norther Texas
Attorney Deandra M. Grant is fiercely committed to defending the criminally accused. She and our team understand what is at stake when representing our clients, and do everything possible to reach a favorable outcome for their situations. In addition, Attorney Grant carries valuable insight from her years as a former prosecutor. She understands how the prosecution may approach their case against you and uses this knowledge to create compelling defense on your behalf.
Related Blogs
White-collar crimes, such as fraud, embezzlement, and insider trading, are non-violent offenses typically committed by [...]
Client Reviews

"Deandra Grant Law handled my case with diligence and professionalism. Deandra Grant's reputation is stellar and now I know why. She has a team of individuals who provide quality service."
N. Coulter