"Deandra Grant Law fights hard for their clients and is always willing to go above and beyond. They are the best firm for DWI cases in DFW and beyond. Definitely hire them to represent you in any pending cases."
- P. Williams

"Deandra Grant made a tough situation so much better. She listened to my concerns and helped me so much with my case. I would recommend her to anyone needing legal services."
- M. Haley

"Deandra Grant Law handled my case with diligence and professionalism. Deandra Grant's reputation is stellar and now I know why. She has a team of individuals who provide quality service."
- N. Coulter
A Fighting Team On Your Side
Since 1994 when our doors opened, Deandra Grant Law has helped thousands of clients get their DWI charges reduced or dismissed. We're ready to fight on your behalf.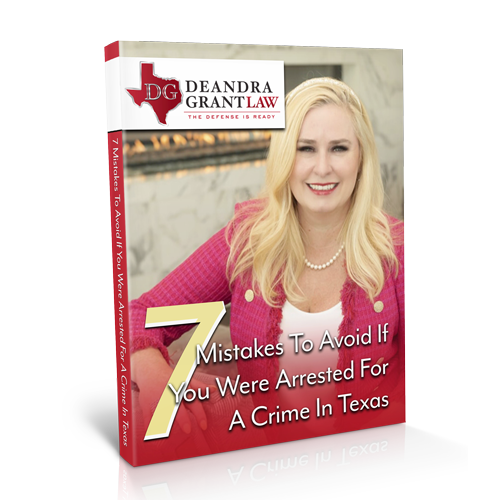 Download Our Free Texas Criminal Guide
Learn what you should and shouldn't be doing to help your criminal defense case.
Texas Prescription Drug Crime Lawyers
For many people, committing a crime involving prescription drugs starts innocently enough. They are prescribed a painkiller after surgery, for example, or start prescribed Xanax for anxiety, but before they know it, they have become addicted. Many prescription medications are highly addictive. People who find they need more and more of a prescription drug can become involved in illegal activities in order to gain access to more of the drug, including false prescriptions, doctor shopping, or purchasing the substance illegally. If you have been charged with illegal possession of prescription drugs, you should contact our team of drug crime lawyers. Without a successful defense case, and depending on different factors, you could be facing jail or prison time, fines, and other penalties.
Prescription Drug Crime Penalties In Texas
Possessing prescription drugs illegally for personal use and/or sales is a serious crime. The impact of prescription drug misuse can be severe. Individuals under the influence of medications can find themselves acting irrationally, even violently. Driving under the influence of prescription medications could render you less capable of controlling your vehicle.
Prescriptions can be forged, or they can be altered to change the quantity of the drug prescribed. Drugs can be illegally obtained via the internet. Another common tactic is to shop for different doctors, obtaining prescriptions from each, or the person might get prescription drugs from other family members or friends.
Penalties for prescription drug crimes vary depending on which drug is involved and the quantity. Penalties can range from time in jail to 20 years in prison, with fines up to $10,000. You could the live life with a felony criminal record, which will cause serious problems with employment, school enrollment, could restrict your ability to gain a professional license, and impact your ability to obtain loans or other normal tasks.
It is important to retain counsel from an experienced prescription drug lawyer as soon as possible if you have been arrested for a prescription drug crime. Deandra Grant Law is dedicated to providing an aggressive, effective and well-crafted defense case for every client we represent.
Related Blogs
The Miranda rights, a fundamental component of the American criminal justice system, play a crucial [...]
Client Reviews

"Deandra Grant Law handled my case with diligence and professionalism. Deandra Grant's reputation is stellar and now I know why. She has a team of individuals who provide quality service."
N. Coulter