"Deandra Grant Law fights hard for their clients and is always willing to go above and beyond. They are the best firm for DWI cases in DFW and beyond. Definitely hire them to represent you in any pending cases."
- P. Williams

"Deandra Grant made a tough situation so much better. She listened to my concerns and helped me so much with my case. I would recommend her to anyone needing legal services."
- M. Haley

"Deandra Grant Law handled my case with diligence and professionalism. Deandra Grant's reputation is stellar and now I know why. She has a team of individuals who provide quality service."
- N. Coulter
A Fighting Team On Your Side
Since 1994 when our doors opened, Deandra Grant Law has helped thousands of clients get their DWI charges reduced or dismissed. We're ready to fight on your behalf.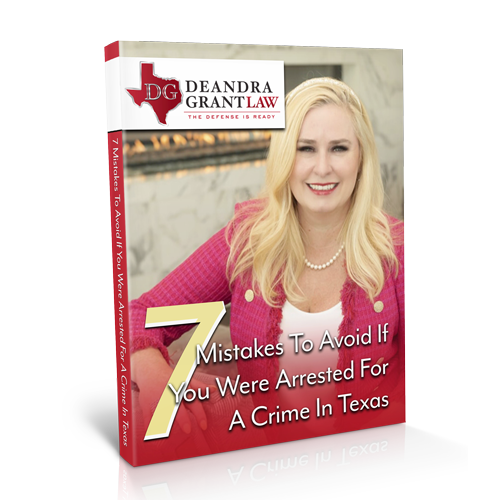 Download Our Free Texas Criminal Guide
Learn what you should and shouldn't be doing to help your criminal defense case.
Texas Burglary Defense Lawyers
Burglary is a theft crime that has serious repercussions if you are convicted. Not only will you face incarceration and hefty fines, your future will be detrimentally impacted with a permanent felony record. This can make finding a job, securing housing, obtaining financial aid, and other opportunities difficult at best.
At Deandra Grant Law, our Texas burglary defense lawyers have a reputation based on a high percentage of legal victories in court, a personalized approach to every case, and a commitment to pursue every available legal avenue in pursuit of a favorable result. 
What Constitutes Burglary In Texas?
Burglary in Texas is defined by two elements which must be present in the incident to prove that the offense occurred.
These elements are:
Unlawful entry into a habitation or building

Having the intent to commit a felony, theft, or assault while inside
The crime involves entering a private habitation or building, or hiding in a habitation or building intending to commit a felony, theft, or assault. Even in cases where the intended crime was not completed, a burglary charge can still apply. Burglary is generally charged as a state jail felony except when it occurs in a habitation, in which case the charge is elevated to second-degree felony.
State jail felonies are punishable by up to 2 years in jail and/or fines of up to $10,000. Second-degree felonies carry penalties of up to 20 years in prison and/or fines of up to $10,000. Burglary can be elevated even further to a first-degree felony if the intent was to commit a felony other than theft. First-degree felonies are punishable by 5 up to 99 years in prison with fines of up to $10,000.
Less serious types of burglary can include burglary of vehicles or coin-operated machines, which can lead to misdemeanor charges.
Related Blogs
The Miranda rights, a fundamental component of the American criminal justice system, play a crucial [...]
Client Reviews

"Deandra Grant Law handled my case with diligence and professionalism. Deandra Grant's reputation is stellar and now I know why. She has a team of individuals who provide quality service."
N. Coulter