"Deandra Grant Law fights hard for their clients and is always willing to go above and beyond. They are the best firm for DWI cases in DFW and beyond. Definitely hire them to represent you in any pending cases."
- P. Williams

"Deandra Grant made a tough situation so much better. She listened to my concerns and helped me so much with my case. I would recommend her to anyone needing legal services."
- M. Haley

"Deandra Grant Law handled my case with diligence and professionalism. Deandra Grant's reputation is stellar and now I know why. She has a team of individuals who provide quality service."
- N. Coulter
A Fighting Team On Your Side
Since 1994 when our doors opened, Deandra Grant Law has helped thousands of clients get their DWI charges reduced or dismissed. We're ready to fight on your behalf.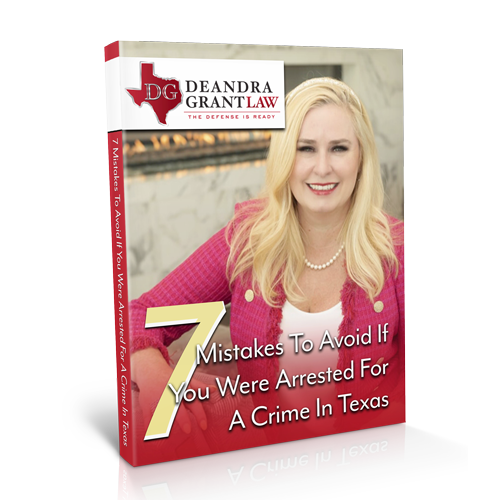 Download Our Free Texas Criminal Guide
Learn what you should and shouldn't be doing to help your criminal defense case.
Texas Drug Smuggling Defense Lawyers
Smuggling controlled substances into and through the U.S. across international and state borders can lead to serious felony charges. As a border state, Texas authorities spend a great deal of time, effort, and resources on locating and prosecuting those who violate state and federal laws concerning the importation, transportation, distribution, sales, manufacture, and trafficking of illegal drugs. These drugs, known as controlled substances, include street drugs such as cocaine, heroin, Ecstasy, or methamphetamine and unauthorized prescription medicines such as oxycodone, hydrocodone, and more. Drug smuggling is generally associated with possession of drugs with the intent to sell or distribute or drug trafficking charges.
If you're facing any charges related to illegal drug smuggling in Texas, you can depend on the professionalism and dedication of the lawyers at Deandra Grant Law. Our firm has over 25 years of experience in aggressively defending the rights and interests of clients accused of criminal acts. Due to her outstanding level of legal ability and client service, Attorney Grant has been selected for inclusion in the Super Lawyers® lists of 2011 and 2012, has been Rated AV Preeminent® by Martindale-Hubbell®, which is the top rating possible, and has been named a Top 100 Trial Lawyer by the National Trial Lawyers Association.
Drug Smuggling Charges & Penalties In Texas
Texas maintains a Controlled Substances Act similar to the federal act of the same name. This Act outlines various categories of drugs and the penalties involved in possession with the intent to sell or distribute or the transportation, importation, manufacture, or trafficking of these drugs. Under this Act, illegal drugs are classified into four groups based on their degree of danger and addictiveness. Under this Act, you can expect penalties based on the kind of drugs you were convicted of smuggling and the quantity involved. Repeat offenses generally carry harsher sentences than those convicted for the first time.
If convicted of drug felony charges, you may face penalties ranging from those of a state jail felony to those of a first-degree felony, which is the most serious. Thus, punishments can range from 180 days to two years in state jail with fines of up to $10,000 or, in the most serious cases, prison terms ranging all the way up to life in prison. Distributing less than a gram for certain drugs will be charged as a state jail felony, while distributing more than 400 grams will lead to a first-degree felony.
Contact Our Drug Smuggling Attorney Today
When facing serious drug charges with harsh consequences, you will want to have confidence in your defense attorney. Your future is at stake, and you are entitled to the best criminal defense you can find. As a Texas drug smuggling defense lawyer, Attorney Grant has a proven track record.
Related Blogs
The Miranda rights, a fundamental component of the American criminal justice system, play a crucial [...]
Client Reviews

"Deandra Grant Law handled my case with diligence and professionalism. Deandra Grant's reputation is stellar and now I know why. She has a team of individuals who provide quality service."
N. Coulter