"Deandra Grant Law fights hard for their clients and is always willing to go above and beyond. They are the best firm for DWI cases in DFW and beyond. Definitely hire them to represent you in any pending cases."
- P. Williams

"Deandra Grant made a tough situation so much better. She listened to my concerns and helped me so much with my case. I would recommend her to anyone needing legal services."
- M. Haley

"Deandra Grant Law handled my case with diligence and professionalism. Deandra Grant's reputation is stellar and now I know why. She has a team of individuals who provide quality service."
- N. Coulter
A Fighting Team On Your Side
Since 1994 when our doors opened, Deandra Grant Law has helped thousands of clients get their DWI charges reduced or dismissed. We're ready to fight on your behalf.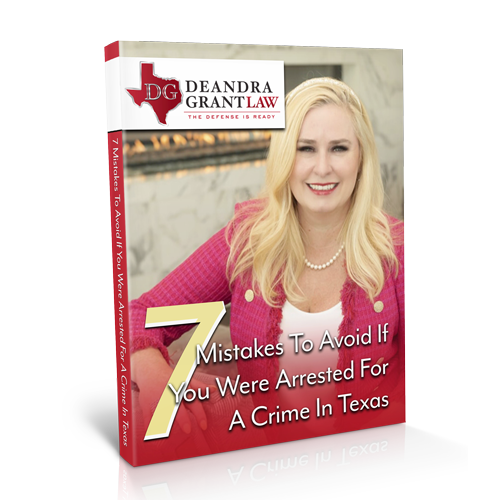 Download Our Free Texas Criminal Guide
Learn what you should and shouldn't be doing to help your criminal defense case.
Texas Spousal Abuse Lawyers
The state of Texas takes spousal abuse and domestic violence seriously, handing down harsh sentences for violators of the law. These penalties can vary depending on the severity of the offense, but those convicted of spousal abuse often face large fines, extensive jail time, and a permanent mark on their record. If you have been accused of or arrested for spousal abuse, the best thing you can do for your case is to retain a knowledgeable criminal defense attorney. At Deandra Grant Law, our firm's founding lawyer has more than 25 years of legal experience. Our team is fiercely dedicated to protecting the rights of the criminally accused. No matter how complex your case may be, we are prepared to handle it skillfully and effectively. Our record of successful results proves we know how to build compelling defenses on our clients' behalf.
Penalties for Spousal Abuse
State law divides spousal abuse into three categories: domestic assault, aggravated domestic assault, and continuous violence against the family. If an individual intentionally causes bodily harm to another person, or knowingly threatens that person with bodily harm, he or she can be charged with domestic assault. An individual with no prior assault convictions may face a Class A misdemeanor with up to $4,000 in fines and up to one year of jail time. If an individual causes serious bodily harm to another person or uses a deadly weapon to hurt or threaten that person, he or she will likely face charges for aggravated domestic assault. This offense is deemed a first degree felony if it involved a deadly weapon, and can bring with it a fine of up to $10,000 and anywhere from 5 to 99 years in prison. Authorities can levy the charge for continuous violence against the family against an individual if he or she commits two acts of domestic assault within a one-year period. Texas classifies this offense as a third-degree felony and assigns a sentence of anywhere from 2 to 10 years of prison time and a fine of up to $10,000.
Helping You Fight For Your Best Interests
According to state assault laws, police can arrest individuals for domestic assault without witnessing the crime. This means a spouse could accuse his or her partner out of anger or in retaliation and bring serious criminal charges against that person based on his or her word alone. Attorney Deandra M. Grant has helped a number of individuals facing circumstances similar to yours. She realizes it may be difficult to decide where to turn in such an overwhelming situation. Our firm has a reputation for providing exceptional criminal defense representation. We believe that an aggressive, skilled litigator can make a difference for your future. That's why we begin protecting your rights and building your defense as soon as you turn to our team. Don't risk your freedom and reputation by working with an inexperienced lawyer. Let our Texas spousal abuse attorneys give you the legal assistance you deserve. The quality of your defense lawyer is a critical issue in the final resolution of your case.
Related Blogs
White-collar crimes, such as fraud, embezzlement, and insider trading, are non-violent offenses typically committed by [...]
Client Reviews

"Deandra Grant Law handled my case with diligence and professionalism. Deandra Grant's reputation is stellar and now I know why. She has a team of individuals who provide quality service."
N. Coulter