"Deandra Grant Law fights hard for their clients and is always willing to go above and beyond. They are the best firm for DWI cases in DFW and beyond. Definitely hire them to represent you in any pending cases."
- P. Williams

"Deandra Grant made a tough situation so much better. She listened to my concerns and helped me so much with my case. I would recommend her to anyone needing legal services."
- M. Haley

"Deandra Grant Law handled my case with diligence and professionalism. Deandra Grant's reputation is stellar and now I know why. She has a team of individuals who provide quality service."
- N. Coulter
A Fighting Team On Your Side
Since 1994 when our doors opened, Deandra Grant Law has helped thousands of clients get their DWI charges reduced or dismissed. We're ready to fight on your behalf.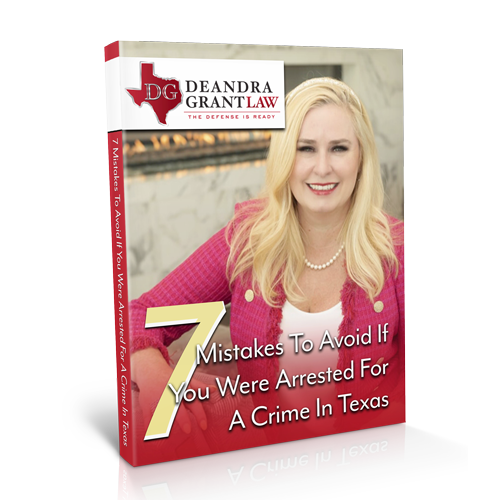 Download Our Free Texas Criminal Guide
Learn what you should and shouldn't be doing to help your criminal defense case.
Texas Aggravated Assault Attorneys
If you've been charged with aggravated assault, act fast to get an aggravated assault lawyer fighting for you. The offense is a felony in Texas, which means if you're convicted, you could be sentenced to years in prison and/or ordered to pay thousands of dollars in fines. Additionally, with an aggravated assault mark on your criminal record, you may encounter difficulties when attempting to re-enter society after you have completed your sentence. With an experienced, intelligent, and skilled criminal defense lawyer on your side, you increase the chances of avoiding or minimizing the harsh penalties resulting from a guilty verdict.
At Deandra Grant Law, we recognize what's at stake in these types of matters. That is why our Texas aggravated assault lawyers aggressively challenge the charges. Backed by over 25 years of experience and a sound grasp of the justice process, we know what it takes to effectively navigate these cases. When you turn to us, we will learn about the situation from your side, review all relevant information, and sift through the evidence to identify weaknesses in proof. Our team can leverage their resources to build a powerful defense on your behalf and work toward a favorable outcome for you.
Second-Degree Felony Aggravated Assault in Texas
Aggravated assault is considered a more serious form of assault. In Texas, simple assault occurs when a person intentionally or knowingly causes injury to another, threatens another with harm, or touches another in an offensive or provocative manner.
An assaultive offense is elevated to aggravated assault when:
Serious bodily injury results; or

A deadly weapon is used or displayed during the assault.
It's important to note that assault with a deadly weapon is not limited to instances when a gun is brandished or discharged. Texas Penal Code § 1.07 defines a deadly weapon as a firearm, any object made to cause death or serious injury, or anything that can be used to inflict death or serious bodily injury. Thus, a car, bat, tree branch, or nearly any other object can be considered a deadly weapon. If such an item is used during an assault, the person may be charged with aggravated assault.
Generally, assault with a deadly weapon or assault resulting in serious bodily injury is charged as a second-degree felony. A conviction may be penalized by between 2 and 20 years in prison and/or a fine of up to $10,000.
Our Texas aggravated assault lawyers have a track record of results, achieving case dismissals and not guilty verdicts for past clients, and we will effectively represent you to work toward obtaining the best possible outcome on your behalf.
Related Blogs
The Miranda rights, a fundamental component of the American criminal justice system, play a crucial [...]
First-Degree Felony Aggravated Assault in Texas
In some cases, aggravated assault can be elevated from a second- to a first-degree felony. The punishments at this degree are much harsher and include a prison sentence between 5 and 99 years and/or a maximum $10,000 fine.
Aggravated assault is a first-degree felony when:
A deadly weapon is used to inflict serious bodily injury on a family or household member or a dating partner;

It's committed by a public servant carrying out their official duties;

It's committed against an on-duty public servant or security officer;

It's committed to retaliate against a witness, prospective witness, informant, or person who reported a crime;

It involves the discharge of a firearm from a vehicle and causes serious bodily injury to another.
Get Aggressive Representation On Your Side
When you're facing serious charges, you need a serious defense. At Deandra Grant Law, our aggravated assault attorneys in Texas, have taken on complex cases and have gone up against the most formidable opponents, and we know how to fiercely defend the people we serve. We will be committed to protecting your rights and freedoms in the Dallas, Denton, Austin, Fort Worth, & Allen areas.
Client Reviews

"Deandra Grant Law handled my case with diligence and professionalism. Deandra Grant's reputation is stellar and now I know why. She has a team of individuals who provide quality service."
N. Coulter