"Deandra Grant Law fights hard for their clients and is always willing to go above and beyond. They are the best firm for DWI cases in DFW and beyond. Definitely hire them to represent you in any pending cases."
- P. Williams

"Deandra Grant made a tough situation so much better. She listened to my concerns and helped me so much with my case. I would recommend her to anyone needing legal services."
- M. Haley

"Deandra Grant Law handled my case with diligence and professionalism. Deandra Grant's reputation is stellar and now I know why. She has a team of individuals who provide quality service."
- N. Coulter
A Fighting Team On Your Side
Since 1994 when our doors opened, Deandra Grant Law has helped thousands of clients get their DWI charges reduced or dismissed. We're ready to fight on your behalf.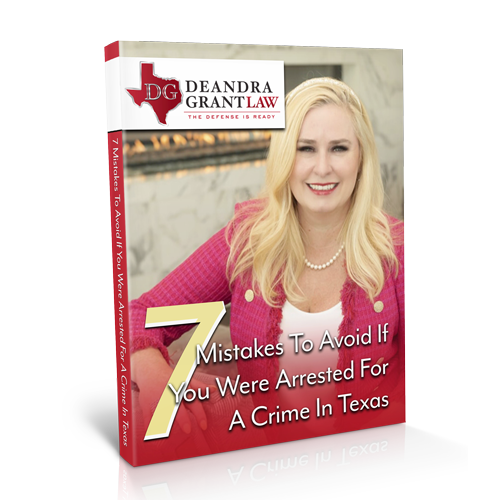 Download Our Free Texas Criminal Guide
Learn what you should and shouldn't be doing to help your criminal defense case.
Texas Shoplifting Attorneys
If you have been accused of or charged with shoplifting in or around Dallas, Fort Worth, Allen, Denton, or Austin, seek legal assistance from our Texas shoplifting lawyers as soon as possible. Being convicted of this theft crime can have major impacts on your future in terms of employment, housing, obtaining educational financial aid, and other opportunities.
At Deandra Grant Law, our team of Texas shoplifting attorneys is led by a 27-plus year veteran with a superb track record of legal wins in court. We can evaluate all of the factors and circumstances related to your case to determine the most effective strategy for your defense. Our goal is to thoroughly defend your rights while designing a tactic for pursuing the best possible outcome.
Shoplifting Laws In Texas
Shoplifting is a form of theft that falls under the broad category outlined in Texas Penal Code Section 31.03.
Shoplifting includes:
Taking items from a retail store without payment

Removing or swapping their tags so as to get them at a cheaper price

Acting as a lookout or otherwise helping the shoplifter commit the crime
Shoplifting is punished according to the value of the goods stolen. Charges can range from the lowest misdemeanor punishable and a fine of $500, to the most serious felony charge carrying a prison term of 5 to 99 years and/or a fine of up to $10,000. You may also face civil charges from the property owner. Many large retail stores are known to prosecute shoplifters to the fullest extent of the law which is why it is imperative that you seek experienced and aggressive legal help from the Texas shoplifting attorneys at Deandra Grant Law.
Related Blogs
The Miranda rights, a fundamental component of the American criminal justice system, play a crucial [...]
Client Reviews

"Deandra Grant Law handled my case with diligence and professionalism. Deandra Grant's reputation is stellar and now I know why. She has a team of individuals who provide quality service."
N. Coulter