"Deandra Grant Law fights hard for their clients and is always willing to go above and beyond. They are the best firm for DWI cases in DFW and beyond. Definitely hire them to represent you in any pending cases."
- P. Williams

"Deandra Grant made a tough situation so much better. She listened to my concerns and helped me so much with my case. I would recommend her to anyone needing legal services."
- M. Haley

"Deandra Grant Law handled my case with diligence and professionalism. Deandra Grant's reputation is stellar and now I know why. She has a team of individuals who provide quality service."
- N. Coulter
A Fighting Team On Your Side
Since 1994 when our doors opened, Deandra Grant Law has helped thousands of clients get their DWI charges reduced or dismissed. We're ready to fight on your behalf.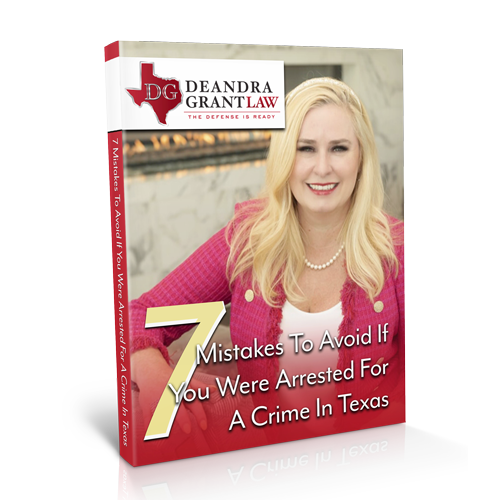 Download Our Free Texas Criminal Guide
Learn what you should and shouldn't be doing to help your criminal defense case.
Texas Drug Manufacturing Defense Attorneys
Under Texas Health & Safety Code, drug manufacturing and drug trafficking are dealt with in the same section. The thing that these two different offenses have in common is that they are sentenced as felonies. It is a felony to cultivate even a fractional amount of a controlled substance, and you could face life in prison for manufacturing more than 14 ounces of an illicit drug. Across the board, any drug manufacturing charge is very serious. Not only is your freedom at risk, but the rest of your life could be at stake too. When you face these dire circumstances, you need to turn to a defense team that you know you can trust. At Deandra Grant Law, we may be able to provide you the powerhouse defense that you need and deserve.
Sentencing For The Manufacture Of A Penalty Group 1 Controlled Substance
Penalty Group 1 substances carry the harshest penalties. Heroin and cocaine are a couple of the drugs included in this list.
The penalties for drug manufacturing vary according to the type of drug involved, and how much of it there is:
It is a state jail felony to cultivate or manufacture less than 1 gram of a Penalty Group 1 controlled substance. One gram is only 0.04 ounces, so any trace of these drugs could have you in jail for at least 180 days, and up to 2 years. You could also be fined up to $10,000.
It is already a second degree felony to manufacture 1 gram but less than 4 grams of a drug from this group. This means 2 to 10 years in prison, and up to $10,000 in fines.
A first-degree felony is cultivating 4 grams but less than 200 grams of any of these substances. The minimum sentence is 5 years in prison, and you could face as much as 99 years, or even a life sentence. There could also be up to $10,000 in fines.
Cultivating 200 grams but less than 400 grams bumps up both the minimum sentence and the highest fine for a first-degree felony. You could face 10 years in prison, and up $100,000 in fines.
400 grams is about 0.88 pounds. Anyone who manufactures 400 grams or more faces a minimum of 15 years in prison, and could be fined as much as $250,000.
Cultivation Of Penalty Group 2 Controlled Substances
Ecstasy, or MDMA, is one of the illegal substances in this group.
Again, the penalties depend on the amount involved in the charge:
Any measurable amount of a Penalty Group 2 substance, less than 1 gram, is a state jail felony. This means 180 days to 2 years in state jail, and up to $10,000 in fines.
Manufacturing 1 gram but less than 4 grams is a second-degree felony, punishable by 2 to 10 years in prison, and up to $10,000 in fines.
The cultivation of 4 grams but less than 400 grams is first-degree felony. This entails at least 5 years in prison and up to 99 years. You could even face a life sentence for this. There could still be up to $10,000 in fines on top of it all.
Cultivating 400 grams or more is an aggravated first-degree felony, as the minimum sentence is moved up to 10 years. The fine can be as high as $100,000. 400 grams is only 14.1 ounces.
Punishments For Manufacturing A Penalty Group 3 Or 4 Controlled Substance
While cultivating a Penalty Group 3 or 4 substance is a lesser charge than manufacturing the above two groups, there are still stringent laws in place about these drugs.
These are all still felony charges, and the same serious penalties still attend them, based on amount:
The manufacture of less than 28 grams (or 0.99 ounces) is a state jail felony. Cultivating less than one ounce of these drugs can lead to 180 days to 2 years in jail, plus up to $10,000 in fines.
It is a second-degree felony to cultivate 28 grams but less than 200 grams of one of these controlled substances. The penalties include 2 to 20 years in prison, plus fines of up to $10,000.
To cultivate 200 grams but less than 400 grams is a first-degree felony, which carries the potential for a life sentence. At the very least, a conviction would lead to a 5-year prison sentence, and could be up to 99 years. Fines could be up to $10,000.
The penalties for a first-degree felony escalate if 400 grams or more have been manufactured. The minimum prison sentence would be 10 years, and there could be up to $100,000 in fines.
One Further Penalty: Life As A Convicted Felon
While the cultivation of marijuana does not fall under any of these penalty groups' sentencing, the offense could be charged as either a misdemeanor or a felony. For many felony charges, one of the more serious repercussions come into place after the sentence has been served. If you have a felony on your personal record, this is what bankers, employers, landlords, and more, would see. Being a convicted felon could haunt you every time there is a background check, thwarting your applications for a house, loan, or job. This is not something with which you can afford to live. When your future is on the line, you need to retain a Texas drug manufacturing defense attorney who can safeguard your freedom.
Put An Experienced Drug Crime Defense Lawyer On Your Side
When it comes to finding the best drug crime attorney possible, you need to look for someone with the dedication and skill it takes to get results. You also want to find someone who offers outstanding service. You can find all this in a criminal defense lawyer from our firm. At Deandra Grant Law, you could work with an AV Preeminent® Rated lawyer. This is the highest peer rating possible from Martindale-Hubbell®, and it means that attorney works at the highest levels of legal ability and ethical standards. Attorney Grant has also been listed as a Super Lawyer® in Super Lawyers®magazine. We may be able to provide the reliable and aggressive defense you need to clear your name and protect your future. With charges of this gravity, do not delay in retaining an experienced drug crime defense attorney.
Related Blogs
The Miranda rights, a fundamental component of the American criminal justice system, play a crucial [...]
Client Reviews

"Deandra Grant Law handled my case with diligence and professionalism. Deandra Grant's reputation is stellar and now I know why. She has a team of individuals who provide quality service."
N. Coulter