"Deandra Grant Law fights hard for their clients and is always willing to go above and beyond. They are the best firm for DWI cases in DFW and beyond. Definitely hire them to represent you in any pending cases."
- P. Williams

"Deandra Grant made a tough situation so much better. She listened to my concerns and helped me so much with my case. I would recommend her to anyone needing legal services."
- M. Haley

"Deandra Grant Law handled my case with diligence and professionalism. Deandra Grant's reputation is stellar and now I know why. She has a team of individuals who provide quality service."
- N. Coulter
A Fighting Team On Your Side
Since 1994 when our doors opened, Deandra Grant Law has helped thousands of clients get their DWI charges reduced or dismissed. We're ready to fight on your behalf.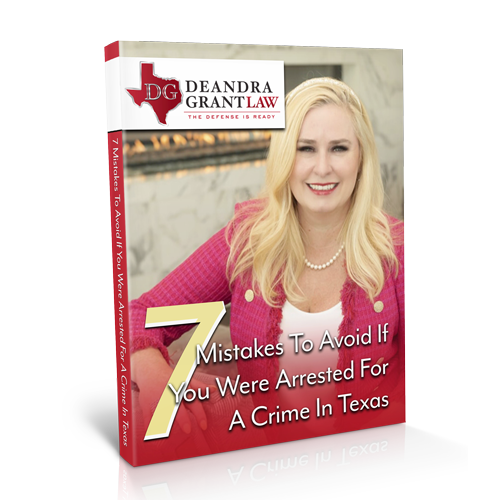 Download Our Free Texas Criminal Guide
Learn what you should and shouldn't be doing to help your criminal defense case.
Texas Federal Fraud Lawyers
You might be accused of fraud if you knowingly deceive someone to unlawfully obtain their property or money. Various types of conduct can be charged under federal fraud laws, and a conviction carries severe penalties, including imprisonment and/or fines. Although fraud crimes do not typically involve physical injury to the victim, the federal government will still harshly prosecute because of the damage such offenses cause to a person's emotional and financial well-being as well as to society.
If you have been accused of fraud, fight to protect your good name by reaching out to Deandra Grant Law. We recognize that charges can arise because of misunderstandings or false accusations. Our federal fraud attorneys will examine every relevant document and communication to identify holes in the government's case against you and build a strong defense on your behalf. We will explore all legal options to seek a favorable result in your case.
What Constitutes Fraud?
Generally, fraud is defined as using deception to deprive another person of their assets. Typically, the alleged offender promises to provide the victim something of greater value in return, such as goods, services, or money. However, they do not intend to follow through on their promise.
Most fraud crimes are carried out by misrepresentation of some material fact. A material fact is something someone relies on for decision-making purposes. Misrepresenting a material fact can include willfully falsifying or omitting information.
When Is Fraud A Federal Crime?
Both Texas and the federal government have laws prohibiting fraud.
Whether an offense falls under federal or state jurisdiction depends on several factors such as:
The type of conduct involved
Whether the offense or alleged offender crossed state or federal borders
Whether the offense was committed using means that affected interstate or foreign commerce
What Are Examples Of Federal Fraud Crimes?
As mentioned before, fraud crimes involve similar underlying conduct – using deceit to defraud a person. However, there are various ways in which fraud can be committed. As such, the federal government has several statutes covering a broad range of offenses.
A few examples of federal fraud crimes include:
At Deandra Grant Law, our Texas federal fraud crimes attorneys handle all manner of offenses. Because these cases are very complex, we are extremely detailed in our review. We will leave no stone unturned as we challenge the government's case against you.
Recent Blogs
The Miranda rights, a fundamental component of the American criminal justice system, play a crucial [...]
What Are The Penalties For Federal Fraud Crimes?
The punishments for a federal fraud offense include imprisonment and/or fines. The exact sentence imposed varies based on the statute violated and the nature of the offense.
Possible conviction penalties for specific crimes include:
Mail or wire fraud:

Up to 20 years of imprisonment and/or
A fine

Bank fraud:

Up to 30 years of imprisonment and/or
Up to $1,000,000 in fines

Bankruptcy fraud:

Up to 5 years of imprisonment and/or
A fine

Health care fraud:

Up to 10 years of imprisonment and/or
A fine

Identity theft:

Up to 15 years of imprisonment and/or
A fine

Aggravated identity theft:

Generally: 2 years added on to the prison sentence
Terrorism: 5 years added on to the prison sentence

Securities fraud:

Up to 25 years of imprisonment and/or
A fine

Tax fraud:

Up to 5 years of imprisonment and/or
Up to $100,000 in fines
If you have been charged with a federal fraud crime, your future and freedom are at stake. Allow our federal fraud lawyers in Texas to aggressively defend you and work toward an optimal outcome.
Discuss Your Federal Fraud Case Today
During this difficult and stressful time, you might have several questions and concerns about your case. Deandra Grant Law is here to deliver clear and straightforward answers. Your case is not hopeless. Defenses may be raised to fight your charge, and we will go over all your available options.
Client Reviews

"Deandra Grant Law handled my case with diligence and professionalism. Deandra Grant's reputation is stellar and now I know why. She has a team of individuals who provide quality service."
N. Coulter