"Deandra Grant Law fights hard for their clients and is always willing to go above and beyond. They are the best firm for DWI cases in DFW and beyond. Definitely hire them to represent you in any pending cases."
- P. Williams

"Deandra Grant made a tough situation so much better. She listened to my concerns and helped me so much with my case. I would recommend her to anyone needing legal services."
- M. Haley

"Deandra Grant Law handled my case with diligence and professionalism. Deandra Grant's reputation is stellar and now I know why. She has a team of individuals who provide quality service."
- N. Coulter
A Fighting Team On Your Side
Since 1994 when our doors opened, Deandra Grant Law has helped thousands of clients get their DWI charges reduced or dismissed. We're ready to fight on your behalf.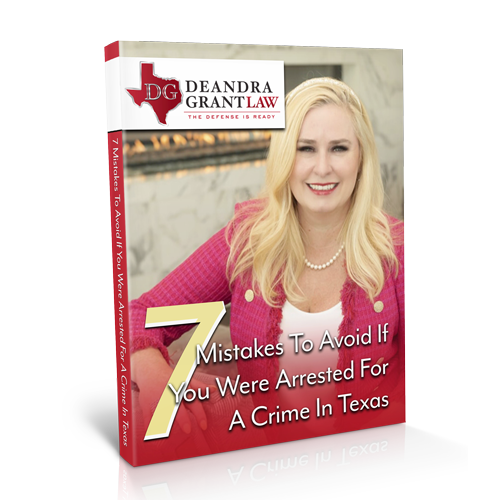 Download Our Free Texas Criminal Guide
Learn what you should and shouldn't be doing to help your criminal defense case.
Texas Federal Crimes Lawyers
The federal judicial process is lengthy and complex. Agents will begin an in-depth investigation to collect evidence if you have been accused of violating federal law. They will then hand over the information to a U.S. Attorney who will develop a case against you. The Federal Government will do everything in its power to prove guilt and pursue maximum punishments. The conviction penalties for a federal crime are severe. They can include a lengthy prison sentence and/or high fines, not to mention the collateral consequences you face after completing your sentence. Because of what is involved and at stake in a federal criminal matter, you must obtain serious legal representation immediately.
At Deandra Grant Law, our Texas federal crimes lawyers are prepared to deliver the counsel you need throughout your case. We have extensive experience handling complex criminal matters and are equipped with the resources, knowledge, and skills to build and present an aggressive defense. We care about the people we help and will do whatever is legally necessary to protect your rights and seek an optimal outcome in your case.
Federal Crimes Vs. State Crimes
Federal and state crimes are similar in that they occur when someone has broken the law. That said, distinctions between the two exist. A federal crime is when someone violates federal law, which Congress enacts. Federal laws generally prohibit illegal conduct that affects interstate or foreign commerce (essentially that it crosses state lines or country borders) or that occurs on federal property such as the Post Office or a national park.
In contrast, a state crime is one where someone violates a state law, which state legislators enact. State laws concern acts that are confined to the state.
Sometimes, a person may be accused of violating state and federal laws. If this happens, the person may be prosecuted by the state government, the federal government, or both. Although the U.S. has a law prohibiting Double Jeopardy (no person can be tried for the same crime twice), that does not apply when a person's matter falls under state and federal jurisdiction. Double Jeopardy forbids prosecution by the same sovereign, but state and federal governments are considered separate sovereigns.
Who Investigates Federal Crimes?
Agents from a federal law enforcement agency investigate federal crimes. The U.S. has several such agencies, with each separate handling matters. However, multiple agencies may work together on a single case depending on the alleged conduct.
Federal Investigative Agencies
Below are some of the different agencies handling federal crimes and examples of what matters they take on:
Federal Bureau of Investigation (FBI): Violent crimes, cybercrimes, white collar crimes
Drug Enforcement Agency (DEA): Controlled substances offenses, such as drug trafficking or drug possession
Bureau of Alcohol, Tobacco, Firearms and Explosives (ATF): Illegal manufacture, sales, possession, or use of firearms
U.S. Secret Service: Cybercrimes, counterfeiting offenses
Homeland Security Investigation: Child exploitation, human trafficking
An investigation begins when someone reports an alleged violation of federal law. Agents will be dispatched to determine whether an offense has been committed and whether the accused committed it. The agents will use a range of sophisticated investigative techniques to gather evidence.
Depending on the outcome of the investigation, agents will arrest a suspect and hand their file over to a federal prosecutor. The prosecutor determines whether sufficient evidence exists to pursue a case against the accused.
During a federal investigation, you have the right to remain silent and have an attorney. You must exercise these rights, even at the early stages of your case, because what you do or say at the beginning can affect the outcome. Additionally, after conducting their investigation, a defense lawyer may be able to seek to have the case dropped or lesser charges pursued.
At Deandra Grant Law, our federal crimes attorneys will stand up for you at every stage of your case. Speak with a member of our team as soon as possible.
Recent Blogs
The Miranda rights, a fundamental component of the American criminal justice system, play a crucial [...]
Examples Of Federal Crimes
The United States Code contains various statutes enumerating prohibited conduct. These laws cover numerous offenses ranging from controlled substance crimes to fraud crimes.
Common federal crimes include:
Drug trafficking: This offense is defined as the knowing and unlawful manufacture, distribution, or dispensing of a controlled or counterfeit substance. The penalties are tied to the type and amount of drugs involved.
Fraud: This is an umbrella term for conduct involving deception or deceit to defraud a person out of money or property. Examples of offenses include mortgage fraud, mail and wire fraud, identity fraud, bank fraud, counterfeiting, and health care fraud.
Firearms offenses: This covers acts such as unlawfully possessing, selling, or transporting deadly weapons.
Child pornography: This refers to the production, distribution, possession, or transportation of visual depictions of a person under 18 years of age engaged in sexually explicit conduct.
Our federal crimes lawyers in Texas handle all types of federal crimes. Regardless of what you have been accused of or how complex you believe your case is, you can turn to our firm for the defense you need.
What Are The Penalties For Federal Crimes?
Being convicted of a federal crime can result in serious sanctions. The penalties will vary based on the offense committed and other variables.
Examples of conviction penalties for specific crimes are below:
In addition to incarceration and/or a fine, anyone guilty of a federal offense can also face collateral consequences. Collateral consequences arise from local, state, and/or federal regulations or laws. They can include being denied professional licenses or disqualified from federal benefits, affecting a person for the rest of their life.
At Deandra Grant Law, we know what is at stake in federal criminal matters, which is why we do what it takes to seek to avoid or minimize penalties.
Contact Our Federal Crimes Attorney Today
If you have been accused of a federal crime, please do not hesitate to contact our team. We will take the time to learn from your perspective, discuss your legal options, and develop a tailored strategy.
Client Reviews

"Deandra Grant Law handled my case with diligence and professionalism. Deandra Grant's reputation is stellar and now I know why. She has a team of individuals who provide quality service."
N. Coulter