"Deandra Grant Law fights hard for their clients and is always willing to go above and beyond. They are the best firm for DWI cases in DFW and beyond. Definitely hire them to represent you in any pending cases."
- P. Williams

"Deandra Grant made a tough situation so much better. She listened to my concerns and helped me so much with my case. I would recommend her to anyone needing legal services."
- M. Haley

"Deandra Grant Law handled my case with diligence and professionalism. Deandra Grant's reputation is stellar and now I know why. She has a team of individuals who provide quality service."
- N. Coulter
A Fighting Team On Your Side
Since 1994 when our doors opened, Deandra Grant Law has helped thousands of clients get their DWI charges reduced or dismissed. We're ready to fight on your behalf.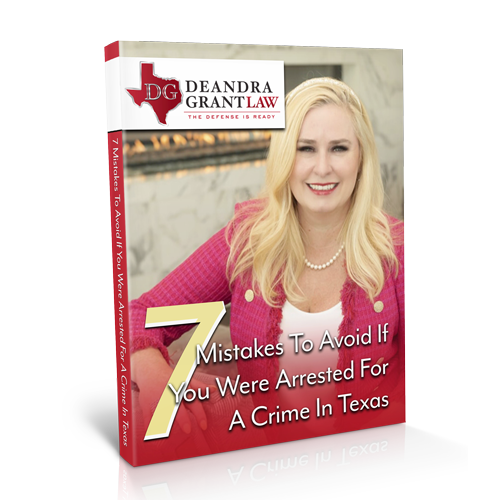 Download Our Free Texas Criminal Guide
Learn what you should and shouldn't be doing to help your criminal defense case.
Texas Warrant Lawyers
If you've found yourself on this page – it's likely that you're in a situation that's causing worry and uncertainty about your future. We understand the anxiety that comes with having a warrant out for your arrest in Texas. The fear of legal consequences can be overwhelming, but you don't have to navigate this challenging situation alone. At Deandra Grant Law, our dedicated team of Texas Warrant Lawyers are here to provide you with expert legal counsel and support, ensuring that you pursue a positive outcome for your case.
The Reality of Warrants in Texas
Warrants are serious legal matters that demand swift attention. In Texas, the consequences of having a warrant out for your arrest can range from fines to jail time, depending on the nature of the offense. According to recent statistics, the Texas Police Department processes thousands of warrants each year. These warrants can stem from a variety of situations, including traffic violations, missed court appearances, or even more serious criminal charges.
Do Not Run From Your Warrant
Sometimes, it can be arranged that you can turn yourself in to clear a warrant, and depending on your record and other circumstances involving the warrant, you may be able to avoid waiting for a hearing in jail. In other cases, our firm may be able to have the warrant lifted if it has been issued in error, or is aged. In any case, running from a warrant is not advisable.
Understanding the Importance of Legal Representation
When you have a warrant out for your arrest, hiring our experienced Texas Warrant Lawyers is not just a smart choice – it's a crucial one. Attempting to deal with a warrant on your own can lead to costly mistakes, further legal trouble, and unnecessary stress. Our skilled Texas Warrant Lawyers specialize in warrant cases and are well-versed in the intricacies of the legal system in Texas.
Why Choose Deandra Grant Law?
At Deandra Grant Law, we pride ourselves on providing compassionate and comprehensive legal support to individuals facing warrants in Texas. Our team of seasoned Texas Warrant Lawyers have a deep understanding of the local legal landscape, which allows us to strategize effectively on your behalf. We are committed to safeguarding your rights and pursuing positive results for your case.
Benefits of Hiring Our Texas Warrant Lawyers from Our Firm
Experience: Our Texas Warrant Lawyers have years of experience handling warrant cases. We know the ins and outs of the legal processes and can guide you through every step of your case.
Strategic Approach: We understand that each case is unique. Our Texas Warrant Lawyers will analyze your situation meticulously and develop a tailored strategy to build a strong defense.
Negotiation Skills: Our legal team is skilled in negotiations and can work to potentially reduce charges or penalties, providing you with a more favorable outcome.
Minimized Risk: With our seasoned Texas Warrant Lawyers by your side, you minimize the risks associated with navigating the legal system alone. We'll work to protect your rights and interests.
Peace of Mind: Dealing with a warrant can be incredibly stressful. Our empathetic team will offer you the support you need to navigate this challenging time.
If you're facing the unsettling situation of having a warrant out for your arrest in Texas, the importance of selecting a skilled legal team cannot be overstated. The complexities of the legal system can be overwhelming, especially when dealing with a warrant. At Deandra Grant Law, our team of experienced Texas Warrant Lawyers are dedicated to providing you with experienced guidance and support you need during this challenging time.
Related Blogs
White-collar crimes, such as fraud, embezzlement, and insider trading, are non-violent offenses typically committed by [...]
Navigating Warrants Wisely: Avoiding Mistakes and Finding Answers with Deandra Grant Law
Dealing with a warrant out for your arrest in Texas, can be a daunting experience, triggering anxiety and uncertainty about what lies ahead. When facing this situation, it's crucial to avoid common mistakes that could potentially worsen your legal predicament. At Deandra Grant Law, our team of seasoned Texas Warrant Lawyers are dedicated to not only guiding you away from these pitfalls but also providing you with the answers and support you need during this challenging time.
Mistakes to Avoid When Dealing with a Warrant
Ignoring the Warrant: Ignoring a warrant will not make it go away. In fact, it can lead to further legal consequences and potentially even a higher bail amount. Address the warrant promptly to avoid exacerbating the situation.
Attempting to Handle It Alone: The legal system is intricate, and attempting to navigate it on your own can result in costly errors. Consulting with our experienced Texas Warrant Lawyers is crucial to ensure you make informed decisions about your case.
Missing Court Appearances: If you have a scheduled court date related to the warrant, missing it can lead to a warrant for failure to appear. This complicates matters further. Attend court as instructed or consult with a lawyer for guidance if you cannot make it.
Talking to Law Enforcement without Legal Counsel: Anything you say to law enforcement can be used against you in court. It's vital to consult with an attorney before speaking to authorities to safeguard your rights and interests.
Frequently Asked Questions About Warrants in Texas
When facing a warrant out for your arrest in Texas, it's natural to have a myriad of questions and concerns about the legal process, potential consequences, and the steps you should take. At Deandra Grant Law, our team of experienced Texas Warrant Lawyers understands your worries and is here to provide you with answers to some of the most frequently asked questions.
Warrant Client Story
This client story is for educational purposes only.
In the heart of Texas, a cloud of uncertainty loomed over Brian's life. With a warrant hanging over his head, the weight of the world pressed down on his shoulders. It wasn't just the fear of arrest that haunted him; it was the thought of a future forever tarnished by the accusations against him.
Enter David Holmes, a beacon of hope amidst the storm. Brian found himself at the doorstep of Deandra Grant Law, seeking guidance from a team known for their unwavering commitment to justice. As he met David, he felt an instant connection—a connection that would prove to be a turning point in his life.
David listened, not just with his ears, but with his heart. He saw beyond the warrant, beyond the allegations, and connected with the person standing before him. Brian wasn't just another case; he was an individual with dreams, fears, and a longing for a fair chance.
With determination in his eyes, David embarked on a journey to unearth the truth. He delved deep into the details, leaving no stone unturned. As he fought for Brian, it was as if he was fighting for a dear friend—pouring his energy into crafting a defense that would unravel the accusations and reveal the real story.
Weeks turned into months, and the courtroom became a battleground of emotions and facts. David stood steadfast beside Brian, a steady presence that brought reassurance even in the midst of uncertainty. Through it all, David's unwavering dedication mirrored Brian's own desire for justice.
And then, the moment arrived—the verdict. As the words "not guilty" echoed through the courtroom, Brian felt a rush of emotions flood his senses. Relief, gratitude, and a newfound hope for the future merged into a single overwhelming feeling. With David's guidance, he had navigated the storm and emerged victorious.
Brian's story isn't just about legal victories; it's about the power of trust, empathy, and finding a guiding hand when the path seems lost. Deandra Grant Law, with David Holmes at its helm, had turned his life around. The experience didn't just end in a courtroom; it ignited a fire within Brian, inspiring him to believe in the goodness of justice and the importance of fighting for one's rights.
Your Future is Our Priority – Call Our Texas Warrant Lawyers Today
Deandra Grant Law is more than a legal firm; we're your advocates, your guides, and your partners in securing your future. Don't let the shadow of a warrant define your path. Reach out to us today for a free consultation, and let us stand by your side as we work tirelessly to bring about a favorable resolution to your case.
Your journey to justice begins here. Contact Deandra Grant Law – your dedicated Texas Warrant Lawyers who will fight for your rights, support your needs, and work tirelessly to ensure that you emerge from this challenge with a renewed sense of hope and a promising tomorrow.
Client Reviews

"Deandra Grant Law handled my case with diligence and professionalism. Deandra Grant's reputation is stellar and now I know why. She has a team of individuals who provide quality service."
N. Coulter