"Deandra Grant Law fights hard for their clients and is always willing to go above and beyond. They are the best firm for DWI cases in DFW and beyond. Definitely hire them to represent you in any pending cases."
- P. Williams

"Deandra Grant made a tough situation so much better. She listened to my concerns and helped me so much with my case. I would recommend her to anyone needing legal services."
- M. Haley

"Deandra Grant Law handled my case with diligence and professionalism. Deandra Grant's reputation is stellar and now I know why. She has a team of individuals who provide quality service."
- N. Coulter
A Fighting Team On Your Side
Since 1994 when our doors opened, Deandra Grant Law has helped thousands of clients get their DWI charges reduced or dismissed. We're ready to fight on your behalf.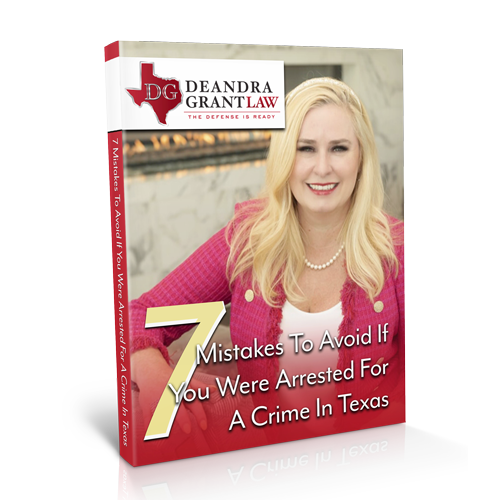 Download Our Free Texas Criminal Guide
Learn what you should and shouldn't be doing to help your criminal defense case.
Austin Heroin Defense Attorneys
Facing a Heroin Charge in Austin, TX? We're Here to Help You
If you find yourself on this page, it's likely that you or someone you care about is facing a Heroin charge in Austin, TX. We understand that this can be an incredibly distressing and overwhelming situation, and we want you to know that you are not alone. At Deandra Grant Law, we are here to provide you with expert legal guidance and support during this challenging time.
Understanding Heroin Charges in Austin, TX
Heroin is a dangerous and highly addictive illegal drug classified as a Schedule I controlled substance. Possession, distribution, trafficking, and manufacturing of heroin are serious offenses in Austin, TX, with harsh penalties upon conviction. The legal consequences can range from significant fines and lengthy imprisonment to a lasting criminal record that can impact various aspects of your life.  Common Heroin-related charges include:
Possession of Heroin: Possessing any amount of heroin is illegal in Texas. Possession of less than one gram of heroin is considered a state jail felony, punishable by up to two years in state jail and a fine of up to $10,000. Possession of one gram or more but less than four grams is a third-degree felony, carrying a sentence of 2 to 10 years in prison and a fine of up to $10,000. Possession of four grams or more but less than 200 grams is a second-degree felony, with penalties of 2 to 20 years in prison and a fine of up to $10,000.
Possession with Intent to Deliver: If someone is found in possession of a larger quantity of heroin, they may be charged with possession with intent to deliver or distribute. The penalties for this offense are even more severe and can result in longer prison sentences and higher fines.
Delivery or Sale of Heroin: Selling or delivering any amount of heroin is a serious offense in Texas. The penalties for heroin distribution or sale depend on the amount of heroin involved and whether the sale occurred in a drug-free zone or involved a minor. Conviction for heroin distribution can result in lengthy prison sentences and substantial fines.
Drug-Free Zone Enhancements: Texas law imposes enhanced penalties for drug offenses committed within certain areas designated as drug-free zones, such as schools, playgrounds, and youth centers. If a heroin offense takes place within these zones, the penalties can be significantly increased.
Choosing Our Austin Heroin Defense Attorneys: Your Future Depends on It
If you are facing a Heroin charge in Austin, TX, the decision you make now can have a profound impact on your future. At Deandra Grant Law, we understand the gravity of your situation and the urgency of finding the right legal representation. Choosing our experienced Austin Heroin Defense Attorneys to defend you is essential in securing the best possible outcome for your case.
The Seriousness of Heroin Charges in Texas
Texas takes drug offenses, especially those related to heroin, very seriously. Possession, distribution, or sale of even a small amount of heroin can lead to severe penalties. For instance, possessing less than 1 gram of heroin can result in a period of incarceration, while a conviction for selling heroin could lead to life in prison and hefty fines. Selling heroin in a drug-free zone or near areas where children are present can lead to enhanced penalties.
The Importance of Experience
When facing such grave consequences, you need a team of Austin Heroin Defense Attorneys with a proven track record of success in handling drug-related cases. Deandra Grant Law has a wealth of experience and expertise in defending clients facing heroin charges. We understand the intricacies of drug laws in Texas and know how to navigate the complexities of the legal system.
Your Free Consultation
At Deandra Grant Law, we believe that every person deserves the opportunity to seek legal counsel without financial barriers. We offer free consultations to assess your case and provide you with an honest evaluation of your options. Our goal is to empower you with the knowledge you need to make informed decisions about your defense.
Mitigating the Consequences
Criminal convictions for heroin-related offenses can have life-altering repercussions, including fines, jail time, and a criminal record. Our dedicated Austin Heroin Defense Attorneys will stand by your side, guiding you through the complicated court and administrative proceedings. We will tirelessly work to protect your rights, build a strong defense, and explore all avenues to secure the best possible outcome for your case.
We Are Here for You
We understand that facing a heroin charge can be overwhelming and emotionally taxing. You don't have to go through it alone. Deandra Grant Law is here to support you throughout this challenging process. Our team of compassionate and skilled attorneys will treat your case with the utmost care and dedication, working diligently to defend your rights and fight for your future.
Your Future is at Stake
When facing heroin charges in Austin, TX, the stakes are high, and the path ahead may seem uncertain. Your choice of Austin Heroin Defense Attorneys can be the determining factor in securing your future. With Deandra Grant Law on your side, you are not alone. Our experienced team will work tirelessly to protect your rights, minimize the impact of the charges, and fight for the best possible outcome. Contact us today for your free consultation and take the first step toward a brighter future.
Related Blogs
The Miranda rights, a fundamental component of the American criminal justice system, play a crucial [...]
Avoiding Critical Mistakes After a Heroin Arrest: How Deandra Grant Law Can Be Your Lifeline
Being arrested for Heroin in Austin, TX, can be an overwhelming and frightening experience. It's essential to approach this situation with caution and avoid critical mistakes that could jeopardize your defense. At Deandra Grant Law, our experienced Austin Heroin Defense Attorneys are here to guide you through this challenging time and help you avoid pitfalls that may impact your case.
Remaining Silent and Requesting an Attorney: One of the most crucial mistakes you should avoid is speaking to law enforcement without legal representation. Remember, you have the right to remain silent. Politely assert your right to remain silent and request to speak with an attorney. Anything you say during questioning can be used against you in court, and it's best to have an experienced Heroin Defense Attorney by your side to protect your rights.
Resisting Arrest or Providing False Information: Resisting arrest or providing false information to law enforcement can lead to additional charges and complicate your case further. It's essential to comply with the instructions of law enforcement officers and provide accurate identification. Cooperation with the authorities while exercising your rights is crucial to safeguard your defense.
Not Seeking Legal Representation: Facing a Heroin charge alone can be a daunting task. Choosing not to seek legal representation can significantly impact the outcome of your case. Engaging the services of an experienced Austin Heroin Defense Attorney at Deandra Grant Law will provide you with invaluable expertise, support, and advocacy to protect your rights and build a strong defense.
Waiting Too Long to Take Action: Time is of the essence when it comes to building a robust defense against a Heroin charge. Waiting too long to seek legal help can limit the options available to you and hinder the investigation process. Contact our team at Deandra Grant Law as soon as possible to ensure we can gather evidence, interview witnesses, and explore all avenues to protect your future.
Failing to Understand Your Rights and Options: Not understanding your legal rights and the potential consequences of a Heroin charge can leave you feeling overwhelmed and uninformed. At Deandra Grant Law, we will educate you about the legal process, explain your rights, and provide you with the information you need to make informed decisions about your defense.
Frequently Asked Questions About Heroin Arrests in Austin, TX
Facing a Heroin arrest in Austin, TX, can be an overwhelming and confusing experience. At Deandra Grant Law, our knowledgeable Austin Heroin Defense Attorneys are here to provide you with answers to some common questions you may have during this challenging time.
Heroin Defense Client Story
This client story is for educational purposes only.
In the heart of Austin, Texas, Gabriel's world came crashing down when he found himself facing a nightmare he never saw coming. He was arrested for Heroin possession, a charge that carried the weight of severe consequences. Fear and uncertainty gripped Gabriel as he felt his life slipping out of his control. Little did he know that amidst the darkness, a guiding light was about to lead him towards hope and redemption.
Meeting Attorney Douglas Huff: A Beacon of Hope
Gabriel's journey took a life-changing turn when he met Attorney Douglas Huff from Deandra Grant Law. From the moment they shook hands, Gabriel felt a sense of comfort and trust in Douglas's expertise and compassionate nature. With each word spoken, Douglas became the beacon of hope Gabriel desperately needed.
Understanding Gabriel's Story: The Strength of Empathy
As Gabriel shared his story, Douglas listened attentively, understanding the fears, anxieties, and challenges that lay ahead. He knew that every client's journey was unique, and he was determined to fight fiercely for Gabriel's rights and future.
Building a Strong Defense: A Shield Against Injustice
With unwavering dedication, Douglas delved into the intricacies of Gabriel's case, leaving no stone unturned. He gathered evidence, examined the circumstances surrounding the arrest, and sought to expose any flaws in the prosecution's case. As he pieced together the puzzle, he instilled hope in Gabriel's heart, reminding him that they were in this together.
A Glimpse of Hope: The Trial Begins
The day of the trial arrived, and Gabriel stood in the courtroom, his heart pounding with anticipation. But he wasn't alone. With Douglas by his side, Gabriel felt a newfound strength—a sense that he was not just another case, but a person with dreams and aspirations deserving of a second chance.
The Turning Point: Found Not Guilty
As the trial unfolded, it became evident that Douglas's dedication and meticulous preparation had created an impenetrable defense. The truth prevailed, and Gabriel was found not guilty of the Heroin possession charges. An overwhelming sense of relief washed over him, and tears of gratitude filled his eyes.
A New Chapter: Embracing a Bright Future
Gabriel's journey with Deandra Grant Law didn't end with the trial. Douglas continued to provide guidance and support, helping Gabriel rebuild his life after the storm. With newfound strength and determination, Gabriel embarked on a path of redemption, leaving the dark shadows of the past behind.
Contact Our Experienced Austin Heroin Defense Attorneys at Deandra Grant Law
Facing a Heroin arrest in Austin, TX, may feel like an overwhelming and uncertain journey. But you don't have to face it alone. At Deandra Grant Law, our compassionate and experienced Austin Heroin Defense Attorneys are here to stand by your side, offering you the support and legal guidance you need during this challenging time.
We understand the fear and anxiety that comes with a Heroin charge, and we want to make sure you have the opportunity to discuss your case with us without any financial burden. That's why we offer free consultations, so you can take the first step towards building your defense without hesitation.
When you choose Deandra Grant Law, you are not just another case number. Our team is committed to understanding your unique circumstances, fears, and hopes. With our skilled Austin Heroin Defense Attorneys by your side, you can be confident that we will explore all possible avenues to achieve the best possible outcome for your situation.
If you've been arrested for Heroin in Austin, TX, don't let fear and uncertainty cloud your judgment. Reach out to us at Deandra Grant Law for a free consultation, and let us be your trusted guide on the path to redemption. Our commitment to excellence and tireless efforts will ensure you have the best possible chance to move forward with hope and confidence. Together, we can build a strong defense, safeguard your future, and create a brighter tomorrow.
Client Reviews

"Deandra Grant Law handled my case with diligence and professionalism. Deandra Grant's reputation is stellar and now I know why. She has a team of individuals who provide quality service."
N. Coulter