"Deandra Grant Law fights hard for their clients and is always willing to go above and beyond. They are the best firm for DWI cases in DFW and beyond. Definitely hire them to represent you in any pending cases."
- P. Williams

"Deandra Grant made a tough situation so much better. She listened to my concerns and helped me so much with my case. I would recommend her to anyone needing legal services."
- M. Haley

"Deandra Grant Law handled my case with diligence and professionalism. Deandra Grant's reputation is stellar and now I know why. She has a team of individuals who provide quality service."
- N. Coulter
A Fighting Team On Your Side
Since 1994 when our doors opened, Deandra Grant Law has helped thousands of clients get their DWI charges reduced or dismissed. We're ready to fight on your behalf.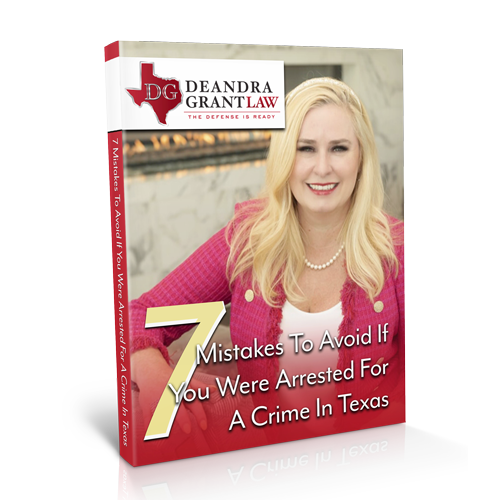 Download Our Free Texas Criminal Guide
Learn what you should and shouldn't be doing to help your criminal defense case.
Fort Worth Domestic Violence Lawyers
Understanding Domestic Violence Charges in Fort Worth, TX
If you find yourself on this page, you may be facing one of the most challenging times in your life – being arrested for domestic violence in Fort Worth, TX. We understand the mix of emotions you may be experiencing, from worry and fear to confusion and anxiety. At Deandra Grant Law, our team of experienced Fort Worth Domestic Violence Lawyers is here to provide you with the support and defense you need during this difficult time.
Domestic Violence Charges and Consequences
Domestic violence is a serious offense that can encompass a range of abusive behaviors within a domestic setting, such as physical violence, emotional abuse, threats, and stalking. In Fort Worth, Texas, these charges can have severe consequences, including:
Common charges related to domestic violence in Dallas, TX, may include:
Domestic Assault: Intentionally causing bodily injury or threatening harm to a family or household member.
Aggravated Assault: Causing serious bodily injury or using a deadly weapon during a domestic assault.
Violation of Protective Order: Disobeying court-issued protective orders meant to prevent contact or harassment of the alleged victim.
Stalking: Repeatedly following, harassing, or threatening a person, causing fear or emotional distress.
Child Abuse or Neglect: Committing acts of physical or emotional abuse against a child in the household.
Continuous Violence Against the Family: Repeatedly committing acts of family violence against the same victim within a specific time frame.
Pursuing the Best Possible Outcome
At Deandra Grant Law, our priority is to help you pursue positive results for your domestic violence case. We will fight tirelessly to protect your rights, challenge the evidence against you, and explore all legal avenues to build a robust defense strategy.
Choose Deandra Grant Law for Expert Defense Against Domestic Violence Charges
If you have been arrested for domestic violence in Fort Worth, TX, the situation may feel overwhelming and frightening. We understand the fear and uncertainty you may be experiencing, and we are here to offer you the guidance and defense you need during this challenging time. At Deandra Grant Law, our team of experienced Fort Worth Domestic Violence Lawyers is dedicated to protecting your rights and pursuing a positive outcome for your case.
Why Hiring the Right Domestic Violence Lawyer Matters
Facing domestic violence charges can have serious consequences that can impact your life for years to come. It is crucial to have the right legal representation by your side to ensure your rights are protected and to build a strong defense against the charges. Here's why choosing Deandra Grant Law can make all the difference:
Free Consultations: We offer free consultations to understand the details of your case and provide you with personalized advice on how to proceed.
Serious Consequences: A domestic violence conviction can result in significant fines, jail time, and a criminal record that can affect your future opportunities.
Experienced Guidance: Our experienced Fort Worth Domestic Violence Lawyers will guide you through the complicated court and administrative proceedings, offering you the support you need during this difficult time.
Strong Defense Strategy: We will conduct a thorough investigation, challenge the evidence against you, and explore all possible legal avenues to build a robust defense.
Compassionate Support: We understand the emotional toll that domestic violence charges can have, and we will provide you with compassionate support throughout the legal process.
Related Blogs
White-collar crimes, such as fraud, embezzlement, and insider trading, are non-violent offenses typically committed by [...]
Avoiding Critical Mistakes After a Domestic Violence Arrest
If you have recently been arrested for domestic violence in Fort Worth, TX, it's essential to handle the situation with utmost care. The decisions you make during this time can significantly impact the outcome of your case. At Deandra Grant Law, our experienced Fort Worth Domestic Violence Lawyers are here to guide you and help you avoid critical mistakes that could jeopardize your defense.
Mistake #1. Not Seeking Legal Representation
One of the most crucial mistakes you can make after a domestic violence arrest is not seeking legal representation. Attempting to handle the case on your own can lead to costly errors and unfavorable outcomes. Our team of skilled attorneys is well-versed in domestic violence law and will provide you with expert guidance throughout the legal process.
Mistake #2. Talking to Law Enforcement Without a Lawyer
After your arrest, law enforcement may attempt to question you. It's essential to remember that you have the right to remain silent and the right to an attorney. Speaking without legal counsel present can inadvertently incriminate you or weaken your defense. Our Fort Worth Domestic Violence Lawyers will ensure your rights are protected and will handle all communications with law enforcement on your behalf.
Mistake #3. Ignoring Protective Orders
If a protective order has been issued against you, it's crucial to abide by its terms. Violating a protective order can lead to additional charges and consequences. Our team will help you understand the terms of the order and ensure compliance to avoid further legal troubles.
Mistake #4. Failing to Document Evidence
Evidence plays a vital role in any domestic violence case. Failing to document evidence or not preserving crucial information can weaken your defense. Our attorneys will work diligently to gather and preserve evidence that supports your case and helps build a strong defense strategy.
Frequently Asked Questions About Domestic Violence Arrests in Fort Worth, TX
Fort Worth Domestic Violence Defense Client Story
This client story is for educational purposes only.
In a bustling city like Fort Worth, Texas, where dreams and struggles intertwine, there lived a man named Sebastian. He was a kind-hearted soul with a gentle spirit, but life had taken a turn, and he found himself in the midst of a storm he never imagined.
One fateful night, after an argument with his girlfriend, the police were called to their home. The words exchanged in anger had led to Sebastian's arrest on charges of domestic violence. The weight of the accusation was crushing, and he felt lost and desperate, unsure of how to navigate the darkness that enveloped him.
But in the shadows, a beacon of hope emerged – a guiding light named Sorsha Huff from Deandra Grant Law. Sorsha was a renowned Domestic Violence Lawyer, known for her unwavering dedication to justice and her empathetic approach to each client's unique situation.
From their very first meeting, Sorsha saw beyond the charges and the turmoil, recognizing the goodness in Sebastian's heart. She listened intently to his side of the story, offering reassurance and support that he desperately needed. Sorsha understood that sometimes, the truth could be obscured by emotions and miscommunications.
With a fierce determination to seek the truth, Sorsha delved into the details of the case, meticulously analyzing the evidence, and leaving no stone unturned. She knew that the road ahead would be challenging, but she remained resolute in her belief that justice would prevail.
As the trial approached, Sorsha prepared Sebastian for what lay ahead with compassion and honesty. She encouraged him to stay strong, to trust in the process, and most importantly, to believe in himself. Sebastian found comfort in Sorsha's unwavering belief in his innocence, and he began to see a glimmer of hope in the midst of the darkness.
When the day of the trial arrived, Sorsha stood by Sebastian's side, a pillar of strength and support. She skillfully presented the evidence that painted a clearer picture of what had truly transpired that fateful night. Her words were eloquent, her arguments compelling, and her dedication to justice evident in every syllable she uttered.
And in that moment, as the truth shone through, the weight that had burdened Sebastian began to lift. The courtroom was filled with tension and emotion, and Sorsha's unwavering determination to seek justice was palpable.
Finally, the moment of truth arrived. The verdict was announced – not guilty. A rush of relief flooded Sebastian's heart as the dark cloud that had hovered over him dissipated. Tears of gratitude welled in his eyes as he embraced Sorsha, thankful beyond words for her unwavering support and her belief in him.
Contact Our Experienced Fort Worth Domestic Violence Lawyers at Deandra Grant Law Now!
If you are facing the overwhelming and distressing experience of a domestic violence arrest in Fort Worth, TX, know that you don't have to face it alone. Deandra Grant Law is here to stand by your side, offering a guiding hand and compassionate support through these challenging times.
We understand the anxiety and uncertainty you may be feeling, and that's why we offer free consultations to help you understand your rights and options. Our team of experienced Fort Worth Domestic Violence Lawyers is dedicated to fighting for your best interests and seeking a positive outcome for your case.
With Deandra Grant Law on your side, you can be confident that you have a strong advocate who will tirelessly work to uncover the truth and protect your rights. We will guide you through the complexities of the legal process, ensuring that you are informed every step of the way.
Our commitment to justice and our unwavering belief in your innocence sets us apart. We will approach your case with the utmost care, leaving no stone unturned in our pursuit of justice. Your well-being and future are of the utmost importance to us, and we will do everything in our power to help you emerge from this challenging situation with a positive outcome.
If you or a loved one has been arrested for domestic violence in Fort Worth, TX, don't hesitate to reach out to Deandra Grant Law. Contact us today for a free consultation, and let us put our expertise and dedication to work for you. We are here to support you, fight for your rights, and help you find hope amidst the darkness. Remember, you are not alone – we are here to help you navigate through this difficult time and work towards a brighter future together.
Client Reviews

"Deandra Grant Law handled my case with diligence and professionalism. Deandra Grant's reputation is stellar and now I know why. She has a team of individuals who provide quality service."
N. Coulter