"Deandra Grant Law fights hard for their clients and is always willing to go above and beyond. They are the best firm for DWI cases in DFW and beyond. Definitely hire them to represent you in any pending cases."
- P. Williams

"Deandra Grant made a tough situation so much better. She listened to my concerns and helped me so much with my case. I would recommend her to anyone needing legal services."
- M. Haley

"Deandra Grant Law handled my case with diligence and professionalism. Deandra Grant's reputation is stellar and now I know why. She has a team of individuals who provide quality service."
- N. Coulter
A Fighting Team On Your Side
Since 1994 when our doors opened, Deandra Grant Law has helped thousands of clients get their DWI charges reduced or dismissed. We're ready to fight on your behalf.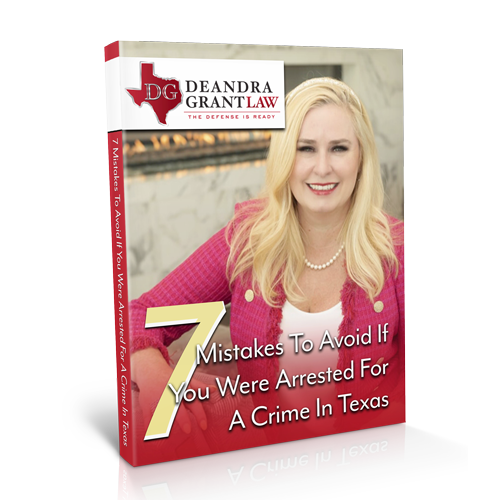 Download Our Free Texas Criminal Guide
Learn what you should and shouldn't be doing to help your criminal defense case.
Texas Marijuana Distribution Attorneys
Have you or a loved one been charged with the distribution of marijuana? If convicted, you could be facing many years in state prison as well as thousands of dollars in fines, as well as life as a convicted felon. Call Deandra Grant Law today for assistance. Our Texas marijuana distribution defense attorneys are highly respected by the legal community for our dedication and passion when it comes to protecting the legal rights and liberties of our clients. Our experience has given us an invaluable insight which allows us to effectively zero in on the flaws of the state's case against you. Faulty search warrants, improper chain of custody of evidence, and non-credible witness testimony are all very common reasons why many cases have been dismissed. Just because you have been charged does not mean you will automatically be found guilty.
---
Call Deandra Grant Law to begin building your case.  
---
Put Nationally Recognized Lawyers On Your Side
We have experience representing defendants in both state and federal courts. Our practice focuses on the legal representation of clients who have been accused of criminal conduct. We are zealous advocates who protect our clients' rights with the same fervor and intensity as the prosecution will be seeking a conviction.
With over 25 years of combined experience and past successes, we have the competence and legal sophistication to take on any case. Deandra M. Grant has been honored to be listed in Super Lawyers® for 2011 and 2012. Super Lawyers® is an attorney rating service that is nationally recognized throughout the legal community. Attorney Grant has assembled a team of lawyers and investigators who are second to none in achieving successful results in criminal defense matters in Texas.
---
Call us today and find out for yourself why our attorneys are the perfect choice to represent you or your loved one when charged with marijuana distribution or any other criminal offense in Texas.
Related Blogs
The Miranda rights, a fundamental component of the American criminal justice system, play a crucial [...]
Client Reviews

"Deandra Grant Law handled my case with diligence and professionalism. Deandra Grant's reputation is stellar and now I know why. She has a team of individuals who provide quality service."
N. Coulter