"Deandra Grant Law fights hard for their clients and is always willing to go above and beyond. They are the best firm for DWI cases in DFW and beyond. Definitely hire them to represent you in any pending cases."
- P. Williams

"Deandra Grant made a tough situation so much better. She listened to my concerns and helped me so much with my case. I would recommend her to anyone needing legal services."
- M. Haley

"Deandra Grant Law handled my case with diligence and professionalism. Deandra Grant's reputation is stellar and now I know why. She has a team of individuals who provide quality service."
- N. Coulter
A Fighting Team On Your Side
Since 1994 when our doors opened, Deandra Grant Law has helped thousands of clients get their DWI charges reduced or dismissed. We're ready to fight on your behalf.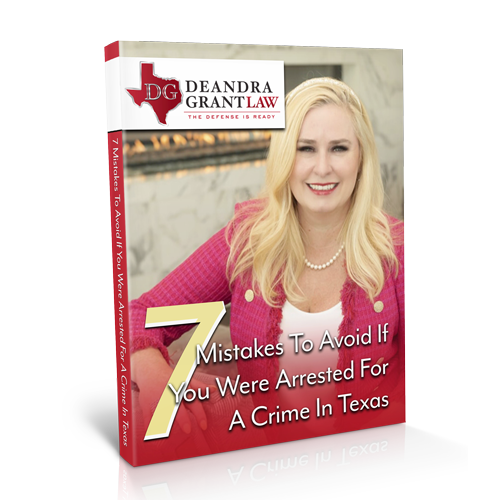 Download Our Free Texas Criminal Guide
Learn what you should and shouldn't be doing to help your criminal defense case.
Texas Marijuana Sales Defense Lawyers
If you are looking for a seasoned and reputable lawyer to defend your marijuana sales charges, you have come to the right law firm. At Deandra Grant Law, Attorney Grant's knowledge and experience with marijuana cases is unparalleled. She has a 10.0 Superb Avvo Rating, she is selected for inclusion in the Super Lawyers® lists of 2011 and 2012, and she is AV Preeminent® Rated by Martindale-Hubbell® Law Directory, which is the highest rating an attorney can achieve for ethical conduct and legal ability.
Texas marijuana sales lawyer, Deandra M. Grant, is a proud member of The National Trial Lawyers: Top 100 Trial Lawyers, an invitation-only organization composed of the premier trial lawyers in each state. Voted as one of D Magazine's Best Women Lawyers in Dallas in 2010, you can have faith in attorney Grant's ability to defend your marijuana case!
---
Call us secure representation from one of our experienced marijuana sales defense lawyers. We also serve clients in Collin County and northern Texas. 
Cultivation & Sales Of Marijuana
Under Section 481.120 of the Texas Controlled Substances Act, it is illegal to knowingly or intentionally sell or deliver marijuana.
An offense under this subsection is:
Gift of 1/4 of an ounce or less – Class B misdemeanor, punishable by a fine up to $2,000, up to 180 days in jail, or both.

Selling 1/4 of an ounce or less – Class A misdemeanor, punishable by a fine up to $4,000, up to one year in jail, or both.

Selling 5 pounds or less, but over 1/4 of an ounce – state jail felony, punishable by a fine up to $10,000, between 180 and 2 years in prison, or both.

Over 5 pounds, but not more than 50 pounds – felony of the second degree, penalties include up to a $10,000 fine, between 2 and 20 years in prison, or both.

If 2,000 pounds or less, but not over 50 pounds – first-degree felony, punishable by 10 to 99 years in prison, and a maximum $100,000 fine if the amount delivered was over 2,000 pounds.
Contact A Texas Marijuana Sales Defense Lawyer Today!
The penalties associated with marijuana sales are prosecuted harshly in Texas. Unfortunately, marijuana is a widely used recreational drug that is often used by normally law abiding citizens who have a lot to lose upon conviction. At Deandra Grant Law, we understand the full ramifications of a marijuana conviction and how it can impact all aspects of your personal and professional life. We stand ready to fight your charges and seek a reduction if not a dismissal in your charges.
Related Blogs
The Miranda rights, a fundamental component of the American criminal justice system, play a crucial [...]
Client Reviews

"Deandra Grant Law handled my case with diligence and professionalism. Deandra Grant's reputation is stellar and now I know why. She has a team of individuals who provide quality service."
N. Coulter