"Deandra Grant Law fights hard for their clients and is always willing to go above and beyond. They are the best firm for DWI cases in DFW and beyond. Definitely hire them to represent you in any pending cases."
- P. Williams

"Deandra Grant made a tough situation so much better. She listened to my concerns and helped me so much with my case. I would recommend her to anyone needing legal services."
- M. Haley

"Deandra Grant Law handled my case with diligence and professionalism. Deandra Grant's reputation is stellar and now I know why. She has a team of individuals who provide quality service."
- N. Coulter
A Fighting Team On Your Side
Since 1994 when our doors opened, Deandra Grant Law has helped thousands of clients get their DWI charges reduced or dismissed. We're ready to fight on your behalf.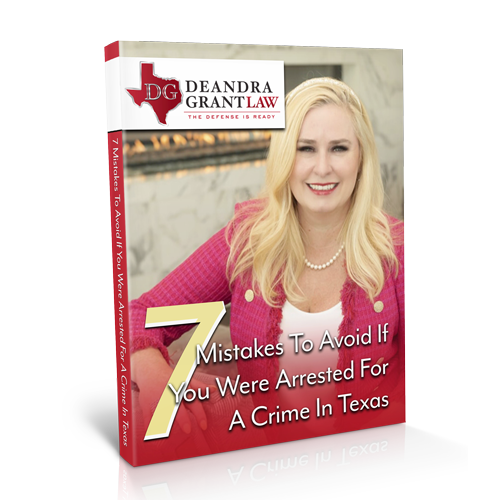 Download Our Free Texas Criminal Guide
Learn what you should and shouldn't be doing to help your criminal defense case.
Texas Marijuana Possession Defense Lawyers
Are you facing charges for possession of marijuana in Texas? If yes, you're going to want an experienced and hard-hitting defense attorney fighting in your corner. At Deandra Grant Law, we fight aggressively to get our clients' charges reduced if not dropped wherever possible.
---
Call us to discuss the details of your case with our Texas marijuana possession defense attorneys. 
---
Why Work With Deandra Grant Law?
Texas marijuana possession defense attorney, Deandra M. Grant has achieved some of the highest accolades in the field of criminal law, including:
She was selected for inclusion in Texas' Super Lawyers® lists of 2011 and 2012

She earned the AV Preeminent® Rating from Martindale-Hubbell®

She is a member of The National Trial Lawyers:Top 100 Trial Lawyers

She offers initial case evaluations to all clients
With credentials such as these, you can have peace of mind knowing that your marijuana possession case is in very good hands.
Marijuana Possession Classification In Texas
Marijuana crimes and penalties are defined under the Texas Controlled Substances Act (Chapter 481 of the Texas Health and Safety Code). A person can be charged with illegally possessing marijuana under § 481.21 if they knowingly or intentionally possess a usable quantity of marijuana.
Two ounces or less – Class B misdemeanor

More than two ounces, but less than four ounces – Class A Misdemeanor

More than four ounces, but less than five pounds – State Jail Felony

Over five pounds, but 50 pounds or less – Third Degree Felony

Over 50 pounds, but 2,000 pounds or less – Second Degree Felony

Over 2,000 pounds – Life Felony
Facing Possession Charges? Contact Deandra Grant Law!
If you are facing marijuana charges, it's critically important to engage the services of Texas marijuana possession attorney, Deandra M. Grant. Although marijuana is a widely used recreational drug that is virtually decriminalized in other states, in Texas, a conviction for a marijuana offense can incur hefty fines, incarceration, driver's license suspension and a criminal record.
Just because you're being accused of a marijuana offense, it doesn't necessarily mean that you will be convicted. Attorney Grant knows how to defend marijuana cases and to demand that the burden of proof be placed on the prosecution. Any doubt placed in the minds of the judge or jury may result in a reduction or dismissal of charges against you.
Related Blogs
White-collar crimes, such as fraud, embezzlement, and insider trading, are non-violent offenses typically committed by [...]
Client Reviews

"Deandra Grant Law handled my case with diligence and professionalism. Deandra Grant's reputation is stellar and now I know why. She has a team of individuals who provide quality service."
N. Coulter