"Deandra Grant Law fights hard for their clients and is always willing to go above and beyond. They are the best firm for DWI cases in DFW and beyond. Definitely hire them to represent you in any pending cases."
- P. Williams

"Deandra Grant made a tough situation so much better. She listened to my concerns and helped me so much with my case. I would recommend her to anyone needing legal services."
- M. Haley

"Deandra Grant Law handled my case with diligence and professionalism. Deandra Grant's reputation is stellar and now I know why. She has a team of individuals who provide quality service."
- N. Coulter
A Fighting Team On Your Side
Since 1994 when our doors opened, Deandra Grant Law has helped thousands of clients get their DWI charges reduced or dismissed. We're ready to fight on your behalf.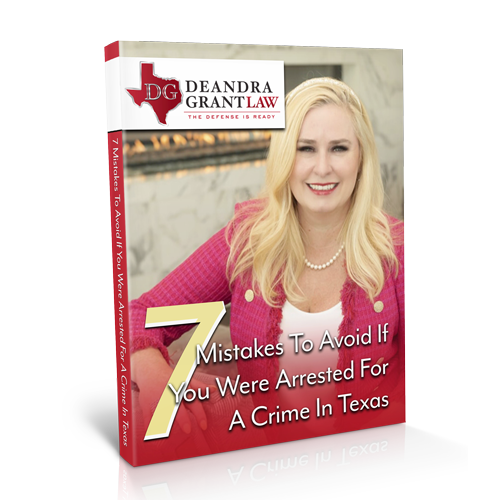 Download Our Free Texas Criminal Guide
Learn what you should and shouldn't be doing to help your criminal defense case.
Texas Marijuana Cultivation Attorneys
The offense of marijuana cultivation in Texas can carry significant jail time, fines and court fees. Depending on the quantity of marijuana that is discovered and admitted as evidence, if you have been charged with the cultivation of marijuana, you could be facing years in prison and thousands of dollars in fines. If you have been charged with marijuana cultivation, please call Deandra Grant Law. We are former prosecutors who are now defending the accused with equal vigor and dedication. As prosecutors, we have seen the questionable conduct of the police single-handedly dissolve many of the drug crime cases we had been trying on behalf of the state. We know the problems facing the effective prosecution of a criminal charge and can easily see the pitfalls of the state's case.
---
Call Deandra Grant Law to discuss your case with our Texas marijuana cultivation defense lawyers. 
---
Related Videos
Why do I need an attorney for a marijuana charge?
Jail time for a marijuana possession
Marijuana legal defenses
Mistakes of a marijuana defense case
Relieving the stress of a marijuana defense client
Charging Landlords With Marijuana Cultivation
As a landlord, if you have been charged with marijuana cultivation or any related crime, we can help you. We will personally meet with you and review all of the related evidence and information that is available and answer any questions you might have. As a land owner, or landlord of a building, you could also be charged with marijuana cultivation even if you did not have any knowledge of the growing operation that was taking place on your property.
Please let us help you to defend yourself against these charges. We have years of experience and skill in developing a successful case strategy that can have your case dismissed at the pre-trial phase, or if need be, go to trial and oppose the state with an insight that only former prosecutors have. Our phones are always ready to receive your call, day or night, to schedule an appointment for you at our offices.
Related Blogs
The Miranda rights, a fundamental component of the American criminal justice system, play a crucial [...]
Client Reviews

"Deandra Grant Law handled my case with diligence and professionalism. Deandra Grant's reputation is stellar and now I know why. She has a team of individuals who provide quality service."
N. Coulter