"Deandra Grant Law fights hard for their clients and is always willing to go above and beyond. They are the best firm for DWI cases in DFW and beyond. Definitely hire them to represent you in any pending cases."
- P. Williams

"Deandra Grant made a tough situation so much better. She listened to my concerns and helped me so much with my case. I would recommend her to anyone needing legal services."
- M. Haley

"Deandra Grant Law handled my case with diligence and professionalism. Deandra Grant's reputation is stellar and now I know why. She has a team of individuals who provide quality service."
- N. Coulter
A Fighting Team On Your Side
Since 1994 when our doors opened, Deandra Grant Law has helped thousands of clients get their DWI charges reduced or dismissed. We're ready to fight on your behalf.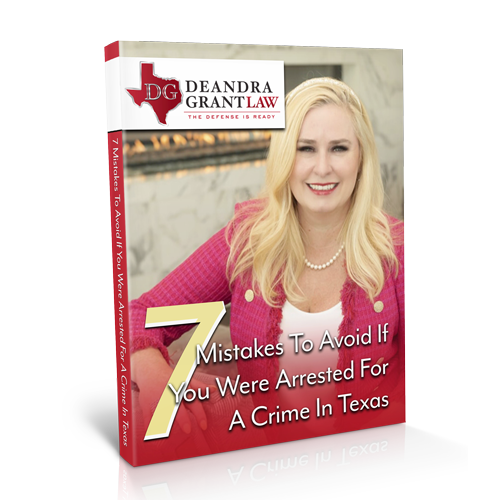 Download Our Free Texas Criminal Guide
Learn what you should and shouldn't be doing to help your criminal defense case.
Waco Domestic Violence Lawyers
Understanding Domestic Violence Charges in Waco, TX
If you find yourself on this page, it's likely that you or someone you care about is facing a Domestic Violence charge in Waco, TX. We know this can be a distressing and uncertain time for you, and we want you to know that Deandra Grant Law is here to help. Our experienced team of Waco Domestic Violence Lawyers is committed to providing compassionate and effective legal representation to those facing these serious charges.
Domestic Violence is a complex and sensitive issue that involves violence or abusive behavior within a domestic setting, such as in a relationship or family. In Waco, TX, the consequences of a Domestic Violence charge can be severe, leading to fines, jail time, restraining orders, and even the loss of custody or visitation rights.
Common charges related to domestic violence in Dallas, TX, may include:
Domestic Assault: Intentionally causing bodily injury or threatening harm to a family or household member.
Aggravated Assault: Causing serious bodily injury or using a deadly weapon during a domestic assault.
Violation of Protective Order: Disobeying court-issued protective orders meant to prevent contact or harassment of the alleged victim.
Stalking: Repeatedly following, harassing, or threatening a person, causing fear or emotional distress.
Child Abuse or Neglect: Committing acts of physical or emotional abuse against a child in the household.
Continuous Violence Against the Family: Repeatedly committing acts of family violence against the same victim within a specific time frame.
Importance of Hiring Our Waco Domestic Violence Lawyers
Hiring an experienced Waco Domestic Violence Lawyer is crucial when facing these charges. Domestic Violence cases are often emotionally charged and can involve complex legal proceedings. Having a knowledgeable attorney by your side can make a significant difference in the outcome of your case.
At Deandra Grant Law, our team of dedicated Waco Domestic Violence Lawyers understands the complexities of these cases and is well-versed in the laws and regulations specific to Waco, TX. We have a proven track record of successfully defending clients against Domestic Violence charges, and we are committed to providing the right defense for your unique situation.
Relevant Statistical Data
Statistics show that Domestic Violence is a widespread issue that affects many lives. According to the Texas Council on Family Violence, in 2019, there were over 200,000 incidents of family violence reported in the state. Domestic Violence is not limited to any specific demographic and can affect people of all ages, genders, and backgrounds.
Our Approach
At Deandra Grant Law, we believe in taking a personalized approach to each case. We understand that every situation is unique, and we will work closely with you to understand your side of the story and build a strong defense strategy tailored to your specific circumstances.
Our goal is to help you pursue a positive outcome for your case. We will advocate for your rights and work tirelessly to protect your interests throughout the legal process. Our Waco Domestic Violence Lawyers will be with you every step of the way, providing guidance and support to help you navigate this challenging time.
 Choosing the Right Defense Team for Your Domestic Violence Case
Facing a Domestic Violence charge can be a daunting and overwhelming experience. If you or someone you care about has been arrested for Domestic Violence in Waco, TX, it's essential to seek the guidance of an experienced and compassionate legal team. At Deandra Grant Law, we understand the seriousness of these charges and are here to provide the support and defense you need.
Why Choose Deandra Grant Law?
Free Consultations: We know that navigating the legal system can be confusing and stressful, especially for those who are facing a Domestic Violence charge for the first time. That's why we offer free consultations to discuss your case and provide you with a clear understanding of your options. During the consultation, we will listen to your side of the story, answer any questions you may have, and outline the potential strategies we can employ to defend your rights.
Consequences of a Domestic Violence Conviction: A Domestic Violence conviction can have far-reaching consequences that can impact every aspect of your life. Not only could you face hefty fines and possible jail time, but you may also have a permanent criminal record that can affect your future employment opportunities, housing options, and even your child custody arrangements. It's crucial to take these charges seriously and seek the right defense.
Navigating Complex Proceedings: Domestic Violence cases often involve intricate court and administrative proceedings. Our team of experienced Waco Domestic Violence Lawyers have a deep understanding of the local laws and regulations surrounding Domestic Violence charges in Waco, TX. We will guide you through the legal process, ensuring you are fully informed and prepared at every step.
Customized Defense Strategy: Every Domestic Violence case is unique, and at Deandra Grant Law, we believe in providing personalized attention to each client. We will take the time to listen to your story, understand the specific details of your case, and develop a defense strategy tailored to your needs and circumstances. Our goal is to pursue a positive outcome for your case and protect your rights throughout the legal proceedings.
Let Us Fight for You
If you or someone you know is facing a Domestic Violence charge in Waco, TX, don't face it alone. Contact Deandra Grant Law today to schedule your free consultation with our dedicated team of Waco Domestic Violence Lawyers. We are committed to being your advocate and fighting for your future. Let us help you navigate this challenging time and work towards a successful outcome for your case. Your future is important to us, and we will stand by your side every step of the way.
Related Blogs
White-collar crimes, such as fraud, embezzlement, and insider trading, are non-violent offenses typically committed by [...]
Common Mistakes to Avoid After a Domestic Violence Arrest
Being arrested for Domestic Violence can be a life-altering experience with significant consequences. It's essential to handle the situation with care and avoid making mistakes that could jeopardize your case. If you or someone you know has been arrested for Domestic Violence in Waco, TX, here are some common mistakes to avoid, and how Deandra Grant Law can provide the guidance you need during this difficult time.
Talking to the Police Without Legal Counsel
One of the most critical mistakes people make after a Domestic Violence arrest is talking to the police without consulting a lawyer first. Anything you say can be used against you in court, and without legal representation, you may unintentionally incriminate yourself. It's essential to exercise your right to remain silent and seek the advice of an experienced Domestic Violence Lawyer before making any statements to the authorities.
Not Seeking Legal Representation Early On
Delaying in seeking legal representation can be detrimental to your case. The earlier you consult with a skilled Domestic Violence Lawyer, the better chances you have of building a strong defense. Waiting too long to hire an attorney may result in missed opportunities to gather crucial evidence or interview witnesses, which could impact the outcome of your case.
Ignoring Protective Orders or Restraining Orders
If a protective order or restraining order has been issued against you, it's crucial to adhere to its terms strictly. Violating these orders can lead to additional charges and worsen the situation. Our team at Deandra Grant Law can help you understand the terms of the order and ensure you comply with its requirements while protecting your rights.
Contacting the Alleged Victim
Attempting to communicate with the alleged victim after a Domestic Violence arrest can be problematic. This can be perceived as intimidation or harassment and may be used against you in court. It's best to maintain distance and avoid any contact until your case is resolved. Let your attorney handle any communication regarding the case.
Frequently Asked Questions About Domestic Violence in Waco, TX
Domestic Violence Defense Client Story
This client story is for educational purposes only.
Meet Ian, a man who found himself caught in a whirlwind of emotions and accusations. One unfortunate day in Waco, TX, Ian was arrested for Domestic Violence against his girlfriend, and his world turned upside down.
Feeling lost and overwhelmed, Ian knew he needed someone to guide him through this daunting legal process. That's when he found Deandra Grant Law, and more importantly, the compassionate and skilled Lawyer, Sorsha Huff.
From the moment Ian met Sorsha, he knew he was in good hands. Her warm and understanding demeanor instantly put him at ease. She took the time to listen to his side of the story without judgment, and Ian felt a glimmer of hope in the midst of his turmoil.
Sorsha dove deep into Ian's case, meticulously examining every detail. She knew that Domestic Violence charges could have serious consequences, and she was determined to fight for Ian's innocence. With her extensive experience and legal expertise, Sorsha crafted a strategic defense tailored to Ian's unique situation.
Throughout the legal proceedings, Sorsha stood by Ian's side, providing unwavering support and reassurance. She was not just a lawyer; she became a true advocate for him. Ian felt a genuine connection with Sorsha, knowing that she genuinely cared about his well-being and the outcome of his case.
As the trial began, Sorsha's confidence and professionalism shone through. She skillfully presented the evidence in Ian's favor and passionately argued for his innocence. Sorsha left no stone unturned, cross-examining witnesses and presenting compelling arguments that cast doubt on the prosecution's case.
Thanks to Sorsha's tenacity and dedication, the jury returned with a verdict of "not guilty." Emotions overwhelmed Ian as he realized that he could put this nightmare behind him. He was free from the burden of a false accusation, and it was all because of Sorsha and Deandra Grant Law.
Contact Our Experienced Waco Domestic Violence Lawyers at Deandra Grant Law Today!
If you or a loved one have been arrested for Domestic Violence in Waco, TX, we understand the emotional and legal challenges you are facing. At Deandra Grant Law, we are here to offer you a guiding hand during this difficult time.
Our team of experienced Waco Domestic Violence Lawyers are ready to provide you with a free consultation to discuss your case in detail. We will listen to your side of the story with empathy and without judgment, understanding the impact this situation may have on your life.
You can trust that we will work tirelessly to achieve a positive outcome for your case. Our dedication to your defense goes beyond the courtroom, as we guide you through every step of the legal process. We will fight vigorously to protect your rights, reputation, and future.
Facing Domestic Violence charges can be overwhelming, but you don't have to go through it alone. Reach out to Deandra Grant Law today and let us be your strong and supportive ally. Together, we will strive for justice and a brighter future ahead. Your story is important, and we are here to listen and fight for you.
Client Reviews

"Deandra Grant Law handled my case with diligence and professionalism. Deandra Grant's reputation is stellar and now I know why. She has a team of individuals who provide quality service."
N. Coulter