"Deandra Grant Law fights hard for their clients and is always willing to go above and beyond. They are the best firm for DWI cases in DFW and beyond. Definitely hire them to represent you in any pending cases."
- P. Williams

"Deandra Grant made a tough situation so much better. She listened to my concerns and helped me so much with my case. I would recommend her to anyone needing legal services."
- M. Haley

"Deandra Grant Law handled my case with diligence and professionalism. Deandra Grant's reputation is stellar and now I know why. She has a team of individuals who provide quality service."
- N. Coulter
A Fighting Team On Your Side
Since 1994 when our doors opened, Deandra Grant Law has helped thousands of clients get their DWI charges reduced or dismissed. We're ready to fight on your behalf.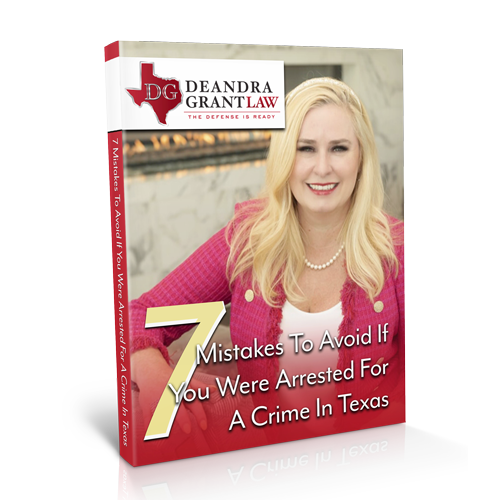 Download Our Free Texas Criminal Guide
Learn what you should and shouldn't be doing to help your criminal defense case.
Waco Drug Crime Lawyers
Defending Your Future: How Our Waco Drug Crime Lawyers Can Help You
If you have landed on this page, you might be feeling anxious and worried about the drug charge you or a loved one is facing in Waco, TX. We want you to know that at Deandra Grant Law, our Waco drug crime lawyers empathize with your feelings and are here to help you through this challenging time.
Understanding Drug Crime Charges in Waco, TX
Drug crime charges in Waco, TX, can vary in severity, ranging from possession of controlled substances to distribution and trafficking. The consequences of a drug conviction can be severe, with potential penalties including hefty fines, imprisonment, and a permanent criminal record. We understand that the stakes are high, and that's why we are committed to providing you with the strongest defense possible.
Drug Crime Cases
Backed by over 25 years of combined experience, Deandra Grant Law can handle any case that comes our way, including:
Possession of small amounts of certain controlled substances will lead to a felony charge. Even if you are facing misdemeanor possession charges, the penalties can be very extreme, including fines, jail time, and court-ordered participation in drug rehabilitation. Read more by accessing the page about this crime.
There are a range of penalties in marijuana crimes, based upon the amount that is alleged to have been in your possession. Beyond a low threshold amount, you can expect to be charged with possession with intent, a felony offense. Charges related to cultivation or trafficking carry very serious penalties, including time in state prison. Find out more.
Charges related to possession, distribution or sales of cocaine are punished very heavily in Texas. If you are accused of any cocaine crime, your future freedom is at risk. Lawmakers have designated this drug as being one of the most dangerous, and the penalties imposed by the courts can include years in prison, even for a relatively small amount of the substance.
The most heavily punished drug crimes are those that involve the sale of controlled substances. It is considered that those involved in distributing the drugs throughout the community deserve the heaviest penalties. When children are involved, the penalties are enhanced. Find out more.
Possession, manufacture, and/or delivery of this Penalty Group 2 controlled substance is at minimum a felony offense. The smallest of amounts can land you felony charges that lead to years in jail or prison, extensive fines, and then life as a convicted felon.
The cultivation or manufacture of a controlled substance is always a felony offense, no matter how much of the drug there is, though penalties do vary according to the amount a substance involved. Some charges can even lead to a life sentence, and any conviction will carry some time in jail or prison.
There is increasing law enforcement attention on prescription drug crimes, including illegal possession, fraudulent prescriptions, doctor shopping, and sales of a variety of drugs, including Oxycontin, Xanax, Ritalin, and other mind-altering prescription medications. If you are facing charges, you need to find out more about what could be done to help you avoid heavy penalties.
This charge can cover drug delivery, sales, and distribution. Even possession with intent to sell can face the severe penalties for drug trafficking. Transporting any amount of an illegal controlled substance is a felony, and any conviction will lead to jail or prison time. These charges may even entail a life sentence.
The Importance of Hiring Our Waco Drug Crime Lawyers
When facing drug crime charges, having our skilled and experienced Waco Drug Crime Lawyers by your side is crucial. The statistics show that drug-related offenses are a significant issue in Texas. According to the Texas Department of Public Safety, in 2020 alone, there were over 134,000 arrests related to drug offenses in the state. In Waco, drug charges are taken very seriously, and you need a lawyer who knows the local legal system inside and out.
Choosing Deandra Grant Law: Your Best Defense Against Drug Charges in Waco, TX
If you find yourself in the distressing situation of being arrested for a drug charge in Waco, TX, you are likely feeling overwhelmed and uncertain about what lies ahead. Drug charge convictions can carry severe consequences that can impact your life for years to come. With potential fines, jail time, and a permanent criminal record on the line, choosing the right legal representation is critical to protecting your rights and your future.
Why Experience Matters in Drug Charge Defense
When it comes to defending against drug charges, having experienced Waco Drug Charge Lawyers on your side can make all the difference. Drug laws in Texas can be complex and ever-changing, and navigating the legal system requires an in-depth understanding of the intricacies involved. At Deandra Grant Law, our team of seasoned attorneys has successfully handled a wide range of drug-related cases, and we have the expertise and knowledge needed to mount a robust defense tailored to your specific circumstances.
The Benefits of Choosing Deandra Grant Law
At Deandra Grant Law, we are committed to providing our clients with the highest level of legal representation and support. Here's why choosing us as your Waco Drug Charge Lawyers can significantly impact the outcome of your case:
Free Consultations: Exploring Your Legal Options
We understand that each case is unique, and that's why we offer free consultations to discuss the details of your situation. During this consultation, we will listen to your side of the story, answer any questions you may have, and explain the legal options available to you.
Protecting Your Future: Mitigating Consequences
A drug charge conviction can have far-reaching implications on your personal and professional life. Our dedicated team of Waco Drug Charge Lawyers will work tirelessly to minimize the potential consequences you may face, striving for a positive outcome in your case.
Guiding You Through the Legal Process: Knowledgeable Advocacy
Navigating the legal system can be overwhelming, but with our experienced Waco Drug Charge Lawyers by your side, you can feel confident that you have a knowledgeable advocate guiding you through the entire process. From complicated court proceedings to administrative matters, we will ensure you are well-informed every step of the way.
Crafting a Strategic Defense: Aggressive Advocacy
We will meticulously analyze the details of your case, scrutinize the evidence against you, and develop a tailored defense strategy aimed at protecting your rights and challenging the prosecution's case.
Related Blogs
White-collar crimes, such as fraud, embezzlement, and insider trading, are non-violent offenses typically committed by [...]
Avoiding Critical Mistakes: Guidance for Those Facing Drug Charges in Waco, TX
Being arrested for a drug charge in Waco, TX, can be an overwhelming and frightening experience. In the midst of this challenging time, it is crucial to avoid common mistakes that could jeopardize your case and future. At Deandra Grant Law, we understand the gravity of your situation, and we are here to provide you with the guidance and support you need to make informed decisions during this critical time.
Mistake #1: Talking to the Police Without Legal Counsel
One of the most significant mistakes you can make after a drug arrest is speaking to the police without an experienced Waco Drug Charge Lawyer by your side. Anything you say can be used against you in court, and without legal representation, you may inadvertently provide information that could harm your defense. Exercise your right to remain silent and seek legal counsel immediately.
Mistake #2: Failing to Understand Your Rights
Understanding your rights is paramount when facing drug charges. You have the right to remain silent, the right to an attorney, and the right to a fair trial. It is essential to fully comprehend these rights and exercise them throughout the legal process. Our Waco Drug Charge Lawyers will ensure your rights are protected and uphold them throughout your case.
Mistake #3: Delaying Legal Representation
Delaying the hiring of an experienced Drug Charge Lawyer can be detrimental to your case. Time is of the essence in building a strong defense, gathering evidence, and conducting investigations. The sooner you secure legal representation, the better your chances of achieving a favorable outcome.
Mistake #4: Ignoring the Impact of a Drug Charge Conviction
A drug charge conviction can have lasting consequences on your life, affecting your job, education, housing, and personal relationships. Ignoring the potential impact of a conviction may result in long-term challenges. Our team at Deandra Grant Law will provide you with a clear understanding of the potential consequences you may face and work diligently to mitigate them.
Frequently Asked Questions: Drug Charge Defense in Waco, TX
When facing drug charges in Waco, TX, you likely have many questions and concerns about your legal situation. At Deandra Grant Law, we understand the importance of having the right information to make informed decisions during this challenging time. Below are answers to some frequently asked questions that individuals recently arrested for a drug charge in Waco often have:
Drug Crime Defense Client Story
This client story is for educational purposes only.
In the midst of Waco, Texas, Ramone found himself entangled in a storm he never saw coming. Arrested for drug possession, he felt the weight of the world pressing down on him. His dreams, his future, all seemed shattered in an instant. Fear and uncertainty gripped him, and he knew he needed a guiding light to pull him from the darkness.
Enter Makenzie Zarate, a compassionate and determined attorney at Deandra Grant Law. From the very first meeting, Ramone could sense that he was not just another case; he was seen as a person with hopes and dreams, deserving of a second chance.
Makenzie listened, without judgment, as Ramone shared his story, his struggles, and his aspirations. She saw beyond the mistakes he had made, and instead, focused on the potential he held within.
With unwavering determination, Makenzie embarked on a journey with Ramone, guiding him through the complexities of the legal process with empathy and expertise. Her dedication to his case was unwavering, and she left no stone unturned in her pursuit of justice.
Through long hours of research and investigation, Makenzie unearthed crucial evidence that would ultimately become the foundation of Ramone's defense. She challenged the prosecution's case, pointing out inconsistencies and raising doubt. Her strategic prowess was evident, and Ramone felt a glimmer of hope rekindle in his heart.
As the trial date approached, Ramone's nerves were calmed by Makenzie's unwavering support and reassurance. He knew he was not alone in this fight; he had a fierce advocate standing by his side.
The day of the trial arrived, and Makenzie stepped into the courtroom with an air of confidence that was contagious. She presented Ramone's case with passion and eloquence, leaving the jury with no choice but to question the validity of the charges against him.
With bated breath, Ramone awaited the jury's verdict. Time seemed to slow, and then, the moment arrived. Not guilty. The words echoed in the courtroom, and tears of relief streamed down Ramone's cheeks. Makenzie had done it; she had fought for his innocence, and he was free.
In the wake of the trial, Makenzie's support did not waver. She offered guidance and resources to help Ramone rebuild his life, counseling him on the path to recovery and redemption.
Contact Our Experienced Waco Drug Crime Lawyers at Deandra Grant Law Today
Don't wait to seek the strong defense you need. Contact Deandra Grant Law today to schedule your free consultation with our dedicated Waco Drug Crime Lawyers. Your future is important to us, and we are ready to stand by your side in the pursuit of justice. Reach out now and let us be your trusted allies during this challenging time. Your defense starts here.
Client Reviews

"Deandra Grant Law handled my case with diligence and professionalism. Deandra Grant's reputation is stellar and now I know why. She has a team of individuals who provide quality service."
N. Coulter