"Deandra Grant Law fights hard for their clients and is always willing to go above and beyond. They are the best firm for DWI cases in DFW and beyond. Definitely hire them to represent you in any pending cases."
- P. Williams

"Deandra Grant made a tough situation so much better. She listened to my concerns and helped me so much with my case. I would recommend her to anyone needing legal services."
- M. Haley

"Deandra Grant Law handled my case with diligence and professionalism. Deandra Grant's reputation is stellar and now I know why. She has a team of individuals who provide quality service."
- N. Coulter
A Fighting Team On Your Side
Since 1994 when our doors opened, Deandra Grant Law has helped thousands of clients get their DWI charges reduced or dismissed. We're ready to fight on your behalf.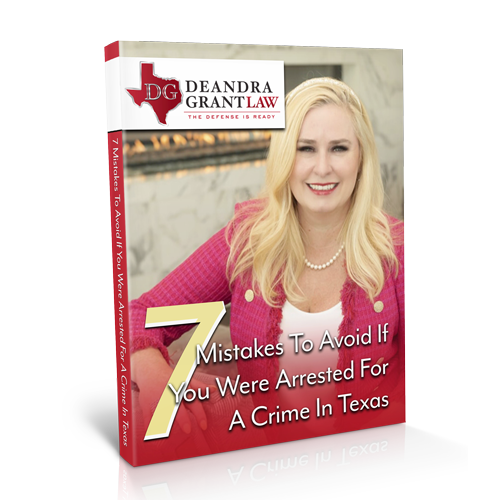 Download Our Free Texas Criminal Guide
Learn what you should and shouldn't be doing to help your criminal defense case.
Allen Warrant Lawyers
Facing a warrant for your arrest can be an extremely distressing experience. If you've found yourself in this situation in Allen, TX, you're not alone, and Deandra Grant Law is here to help. Our team of experienced Allen warrant lawyers understands the anxiety and uncertainty you may be feeling, and we want you to know that we are here to support you and fight for your rights.
Understanding Warrants in Allen, TX
A warrant is an official order issued by a judge that authorizes law enforcement to arrest an individual. Warrants can be issued for various reasons, such as failing to appear in court, violating probation or parole, or being suspected of a crime. If you have a warrant out for your arrest, it's essential to take action promptly.
The Consequences of Ignoring a Warrant
Ignoring a warrant can have severe consequences. Law enforcement can arrest you at any time, and you may be taken into custody at an inconvenient or unexpected moment, such as during a routine traffic stop or even at your place of work. Additionally, failure to address a warrant can lead to additional charges and legal complications.
Do Not Run from Your Warrant
Sometimes, it can be arranged that you can turn yourself in to clear a warrant, and depending on your record and other circumstances involving the warrant, you may be able to avoid waiting for a hearing in jail. In other cases, our firm may be able to have the warrant lifted if it has been issued in error, or is aged. In any case, running from a warrant is not advisable.
Why Hiring an Allen Warrant Lawyer is Crucial
If you have a warrant for your arrest, it is essential to seek legal representation immediately. Our team of experienced Dallas Warrant Lawyers at Deandra Grant Law can assist you in navigating through this complex legal situation. We have the knowledge and expertise to understand the nuances of warrant law in Allen, TX, and we are well-versed in the legal processes to address and resolve your warrant situation.
Our Dallas Warrant Lawyers can provide you with invaluable assistance in the following ways:
Clearing and Recalling Warrants: We can work on your behalf to clear and recall the warrant, allowing you to avoid potential arrest and detention.
Representation in Court: If you need to appear in court for a warrant-related matter, our skilled attorneys will represent you, presenting a strong defense to achieve a positive outcome.
Protecting Your Rights: We will ensure that your constitutional rights are protected throughout the legal process.
Minimizing Consequences: Our goal is to help you minimize the consequences of having a warrant out for your arrest, including potential fines and jail time.
Why Choose Deandra Grant Law for Your Warrant Defense:
Compassionate and Knowledgeable Team: At Deandra Grant Law, we have a team of compassionate and knowledgeable warrant lawyers who will listen to your concerns, understand your unique circumstances, and provide personalized legal advice. We know that facing a warrant can be frightening, and we are committed to supporting you throughout the entire process.
Extensive Experience: Our Allen warrant lawyers have extensive experience in handling warrant cases. We have a deep understanding of the Texas legal system and are well-versed in the intricacies of warrant defense. You can trust that we will use our knowledge and skills to fight for a positive outcome for your case.
Free Consultations: We offer free consultations to individuals who have a warrant for their arrest. During this initial meeting, we will discuss the details of your case, answer any questions you may have, and outline your legal options. This allows you to make an informed decision about how to proceed with your defense.
Strategic Approach: Facing a warrant requires a strategic approach to your defense. Our warrant lawyers will carefully review the evidence, examine the circumstances surrounding the warrant, and develop a strong defense strategy tailored to your specific case. We will work tirelessly to protect your rights and pursue a positive outcome.
Support Throughout the Process: Dealing with a warrant can be overwhelming, but you don't have to face it alone. Our team at Deandra Grant Law will be by your side throughout the entire process, guiding you through complicated court and administrative proceedings. We will keep you informed every step of the way and advocate for your best interests.
Related Blogs
White-collar crimes, such as fraud, embezzlement, and insider trading, are non-violent offenses typically committed by [...]
Common Mistakes to Avoid When Facing a Warrant in Allen, TX
If you have a warrant out for your arrest in Allen, TX, it's essential to handle the situation with caution and care. Making the wrong moves can have serious consequences, so it's crucial to be informed and seek the assistance of experienced warrant lawyers. At Deandra Grant Law, we are here to guide you through this challenging time and help you avoid common mistakes that could jeopardize your case.
Ignoring the Warrant: One of the most significant mistakes you can make is ignoring the warrant. Failing to address the warrant can lead to further legal troubles and complications. It's essential to take immediate action and seek legal representation to understand your rights and explore your defense options.
Trying to Resolve the Warrant on Your Own: Attempting to resolve a warrant on your own without legal representation can be risky. The legal process can be complex, and any missteps can worsen the situation. Having an experienced warrant lawyer by your side can make a significant difference in how your case is handled and the potential outcomes.
Failing to Appear in Court: If you have been summoned to appear in court, failing to do so can result in additional charges and penalties. It's crucial to appear for all court hearings as scheduled, and if you cannot attend, you should notify the court and your attorney as soon as possible.
Talking to Law Enforcement Without Legal Counsel: It's essential to exercise your right to remain silent when approached by law enforcement about the warrant. Anything you say can be used against you in court, so it's best to refrain from providing any statements until you have consulted with an experienced warrant lawyer.
Frequently Asked Questions About Warrants in Allen, TX
If you have a warrant out for your arrest in Allen, TX, you likely have many questions and concerns about your situation. At Deandra Grant Law, we understand the complexities of warrant cases, and we are here to provide answers and guidance. Below are some common questions people may have about warrants, along with our informative answers:
Warrant Defense Client Story
This client story is for educational purposes only.
In the bustling town of Allen, Texas, there lived a man named Lawrence. He was a kind-hearted individual who always tried to do the right thing, but life hadn't always been easy for him. One fateful day, Lawrence discovered that there was a warrant out for his arrest. Fear gripped his heart as he wondered what had gone wrong.
Feeling overwhelmed and unsure of what to do, Lawrence knew he needed help. That's when he heard about Deandra Grant Law and their team of dedicated lawyers, including the compassionate Attorney David Holmes. Lawrence read stories about how they had successfully defended others in similar situations, and he knew he had to reach out for assistance.
With trepidation, Lawrence visited the law firm and met with Attorney David Holmes. From the moment they spoke, Lawrence felt a sense of relief and comfort. Attorney Holmes listened attentively to Lawrence's story, showing genuine empathy for his situation. He assured Lawrence that he was not alone and that they would fight together to seek justice and clear his name.
Throughout the legal proceedings, Attorney Holmes tirelessly worked to build a strong defense for Lawrence. He thoroughly investigated every detail, leaving no stone unturned. His dedication and expertise instilled confidence in Lawrence, who had often felt lost and anxious during this challenging time.
As the trial approached, Lawrence found solace in knowing that he had a trusted guide by his side. Attorney Holmes explained the legal process in simple terms, making sure Lawrence understood each step along the way. He patiently answered all of Lawrence's questions, providing reassurance and encouragement.
The day of the trial arrived, and Lawrence felt a mix of nerves and hope. Standing before the judge and jury, Attorney Holmes presented a compelling case, highlighting the flaws in the evidence against Lawrence. He eloquently argued for his client's innocence, leaving no doubt in anyone's mind.
Finally, the verdict was delivered – not guilty. Lawrence's heart leaped with joy and relief, tears of gratitude filling his eyes. Attorney Holmes had successfully fought for him, and he was finally free from the burden of the arrest warrant that had haunted him.
Contact Our Experienced Allen Warrant Lawyers at Deandra Grant Law
If you find yourself with a warrant out for your arrest in Allen, TX, you don't have to face it alone. Deandra Grant Law is here to help. Our team of experienced Allen Warrant Lawyers are ready to guide you through this challenging time.
We understand the fear and uncertainty that come with having a warrant hanging over your head. That's why we offer free consultations to discuss your situation and provide you with the support and information you need to make informed decisions about your case.
When you choose Deandra Grant Law, you can trust that we will work tirelessly to get a positive outcome for your situation. Our Allen Warrant Lawyers will thoroughly investigate the details of your case, explore all available options, and develop a strong defense strategy to protect your rights and seek justice.
Don't wait for the situation to escalate further. Contact us today and let us help you navigate through the legal process with confidence and peace of mind. Your future is important to us, and we are here to fight for a positive outcome for your case. Let Deandra Grant Law be your trusted ally in this challenging time.
Client Reviews

"Deandra Grant Law handled my case with diligence and professionalism. Deandra Grant's reputation is stellar and now I know why. She has a team of individuals who provide quality service."
N. Coulter